'Crazy' Leo Urlichich this past weekend contested the ADAC Rally Deutschland, Round 4 of the 2014 Drive DMACK Ford Fiesta Trophy.
Leo had a new co-driver in Germany, Briton Michael Gilbey. It was also Urlichich first ever rally on tarmac.
Things started on a good note for the Canadian, but his run of bad luck continued when an electrical failure meant he was forced to retire on the road section leading to SS4 Saturday.
"On the way to stage 4 'Baby Beast' died because of an electrical issue," Urlichich said.
"The first 3 stages were great fun. We had a great run on a very tough stage. And that was my first time ever on slippery tarmac!"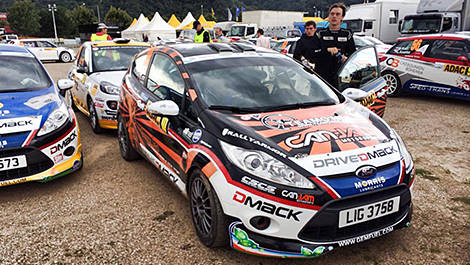 Photo: 'Crazy' Leo Urlichich
The following day, he was forced into retirement on the first stage with a damaged drive shaft.
"On the first stage this morning we went for a "full cut" in this hairpin right and the loaded wheel – the left wheel -- nicked a tiny curb... The impact bent the arm, which pulled the driveshaft. Considering all the carnage at the front of the field, not the worst way to go, but still hard to take," Urlichich declared.