From FIA press release
Reigning World Champions Sébastien Ogier and Julien Ingrassia powered to victory in Rally Italia Sardegna, the sixth round of the FIA World Rally Championship. It represents the duo's fourth win of the season and their 20th world rally victory giving them a 33 point advantage in the Championship.
Mads Østberg and Jonas Andersson recorded their best result of the season with second position and Jari-Matti Latvala and Miikka Anttila were lucky to claim the final podium position after dropping time changing a wheel yesterday.
In the FIA World Rally Championship, Latvala continues to be Ogier's main rival and the Volkswagen team-mates are beginning to pull ahead of third-placed Østberg. In the Manufacturers' Championship, the German marque has once again extended its advantage and has a 118 point lead over the Citroën Total Abu Dhabi World Rally Team.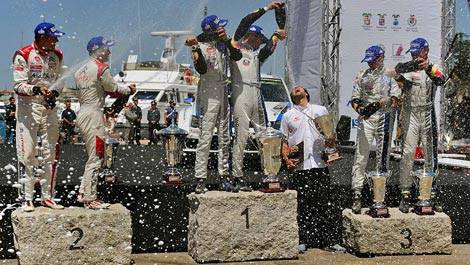 Italian podium (Photo: VW Motorsport)
The Polo R WRC has also now racked up 16 wins from 19 starts and the team has claimed 10 consecutive victories with the all-conquering car.
Today's route covered just four stages and it was Østberg who took the advantage in the first stage, extending his advantage over Latvala in the process. The Finn fought back in the following two stages but simply ran out of kilometres to fight for second. Behind the leading trio, Andreas Mikkelsen finished fourth for the third consecutive event and claimed his first-ever Power Stage victory ahead of both his team-mates.
Elfyn Evans had another solid rally and finished fifth ahead of Martin Prokop, who has been suffering back problems throughout the rally. Henning Solberg and Robert Kubica rounded off the top eight and local hero Lorenzo Bertelli finished ninth and took the FIA WRC 2 Championship victory, his first-ever win.
The seventh round of the FIA World Rally Championship takes the contenders to Poland (26-29 June) where competition will be fought out over stages in both Poland and Lithuania.
Final results* – Rally Italia
1. Ogier-Ingrassia (VW Polo Wrc) in 4.02'37"8
2. Ostberg-Andersson (Citroen DS3 Wrc) + 1'23"1
3. Latvala-Anttila (VW Polo Wrc) + 1'32"1
4. Mikkelsen-Floene (VW Polo Wrc) + 2'39"3
5. Evans-Barritt (Ford Fiesta RS Wrc) + 4'41"8
6. Prokop-Tomanek (Ford Fiesta RS Wrc) + 6'05"3
7. Solberg-Minor (Ford Fiesta RS Wrc) + 7'15"8
8. Kubica-Szczepaniak (Ford Fiesta RS Wrc) + 12'19"0
9. Bertelli-Dotta (Ford Fiesta S2000) + 15'22"1
10. Al Qassimi-Pattersoni (Citroen DS3 Wrc) + 16'49"3
Drivers' championship
1.Ogier 138; 2.Latvala 105; 3.Ostberg 66; 4.Mikkelsen 63; 5.Hirvonen 40, 6.Evans 36; 7.Meeke 32; 8. Neuville 31; 9.Prokop 30; 10.Solberg 22.
Constructors' championship
1.Volkswagen Motorsport 227; 2.Citroen Total Abu Dhabi 110; 3.M-Sport WRT 78; 4.Volkswagen Motorsport II 64; 5.Hyundai Motorsport 59; 6 Jipocar Czech NT 32; RK M-Sport 18.
*Unofficial scoring