After Stephane Peterhansel (MINI) lost about thirty minutes after when he suffered six punctures on the third stage of the Dakar, his teammate Juan Roma emerged quickest and moved up to the lead.
Peterhansel had a great day on the second stage Sunday, taking the lead enduring no less than six punctures, and finishing the stage 28 minutes behind Juan Roma.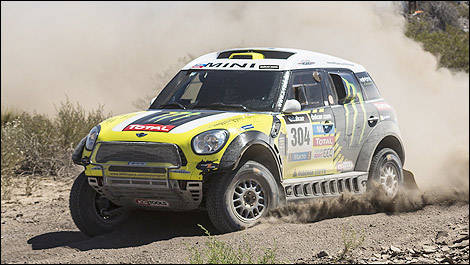 Juan "Nani" Roma, Mini ALL4 Racing. (Photo: BMW Sport Communications)
The Spaniard was quickest Tuesday, as the cars travelled from San Rafael to San Juan, Argentina. The second quickest driver of the day was another X-Raid MINI driver, Pole Krzysztof Holowczyk, as South African driver, Howie Poulter (Toyota) completed the top 3 of the day.
Juan Roma enjoys a 9m06 overall lead over Orlando Terranova (MINI) as Nasser Al-Attiyah (MINI) and Carlos Sainz (buggy SMG) now stand third and fourth respectively. Stephane Peterhansel dropped down to fifth overall.