From Albatec
A promising start to the sixth round of the FIA World Rallycross Championship was prematurely ended for Albatec Racing in Belgium Sunday.
Placed just outside the crucial top 12 after yesterday's two heats, Canadian Jacques Villeneuve was poised to power his two-litre 16v Peugeot 208 to his first ever World RX semi final in front of an estimated 25,000 spectators at the Circuit Jules Tacheny.
Another strong opening heat this morning netted third, and the 14th overall heat time to keep him in contention. But just ahead of the fourth heats, a heavy downpour saw the Supercar teams rushing to switch to wet weather tires.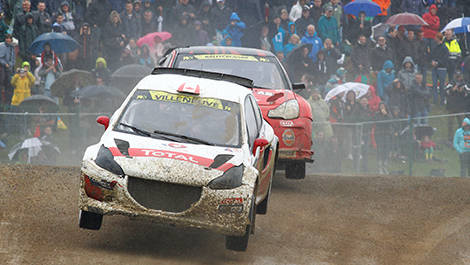 Jacques Villeneuve, Peugeot 208 (Photo: Albatec)
In the race held in slippery wet conditions a number of cars collided, several of which made contact with the No. 25 Cyclops-backed 208 of the former F1 World Champion, causing steering damage and seriously hampering his progress.
The team now faces a race against time to finish the necessary repair work to the cars ahead of being shipped to Canada, round seven of the 12-round global series at Trois-Rivieres on August 7 and 8.
"It's a very disappointing end to a weekend that started off quite well," said Villeneuve.
"We had a pretty good pace yesterday, which allowed us to take two good results and put us in a strong position to qualify, however in the second heat today I got caught up in a first lap crash which caused damage to the steering. Without that I'm sure I could have qualified, as the track suited my driving style."
"It's frustrating after all our efforts and the hard work that's gone into the cars over the last month, but looking ahead, I'm excited to be racing in front of my home crowd in Canada next month," Villeneuve explained.