From Albatec press release
Albatec Racing team principal Andy Scott has made the decision to surrender his No. 26 Peugeot 208 to former F1 World Champion Jacques Villeneuve, after the French-Canadian rolled his car in testing at Holjës, Sweden Wednesday.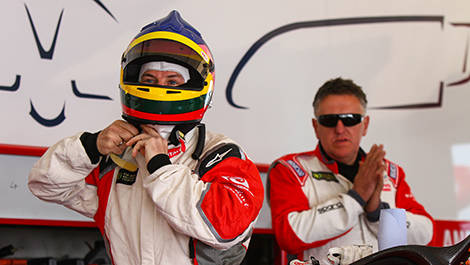 Jacques Villeneuve, Albatec Racing (Photo: Albatec Racing)
The incident occurred late in the day, but the No. 25 208 of Villeneuve has incurred too much damage for the Dumfries-based team to repair ahead of the third round of the 2014 FIA World Rallycross Championship presented by Monster Energy at Hell, Norway this weekend.
Scott will step aside to allow the enthusiastic World RX fans the chance to glimpse Villeneuve in action after he was forced to miss the previous round at Lydden Hill due to clashing commitments with the Indy 500.
The Albatec team is aiming to give Villeneuve the best possible chance of victory in the 600bhp, two-litre, 16v Peugeot 208 Supercar and urges the fans to show their support and get behind the former Indy 500 winner and IndyCar Series' Champion over the coming weekend.