From Andretti Autosport
Scott Speed and Andretti Autosport are now 2-for-2 in Red Bull Global Rallycross this season after the ex-Formula 1 driver captured the X Games gold medal at Circuit of the Americas in Austin, Texas.
Speed, driving the No. 77 7Up Volkswagen Polo, ran the table in today's elimination rounds, winning his quarterfinal and semifinal heats before beating skateboarding icon Bucky Lasek and another F1/NASCAR veteran, Nelson Piquet Jr., in the final.
"This thing is so fast – it's always so fast," Speed told
ESPN
. "It's just a matter for us to stay clean and if we can get out in front, they can't catch us…Our car is so good, it makes my job easy."
Speed opened the season with a win last month at Top Gear Festival Barbados.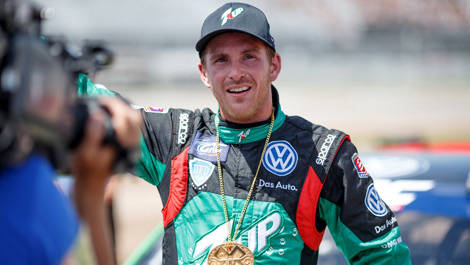 Scott Speed (Photo: VW)
In today's final, Speed won the holeshot heading into the first turn with Liam Doran and Piquet following in second and third. Those front three plus Austin Dyne took the joker on the opening lap of the 10-lap final, but on Lap 3, Dyne sustained contact with Patrik Sandell in the hairpin when the latter tried to pass him on the inside.
Dyne was left with a broken suspension and could not continue. That brought out a red flag and also led to Race Control barring Sandell from the remainder of the final.
Speed, Doran, Piquet and Lasek lined up again for the restart with eight laps left, but Doran ran his Citroen wide in the rush to Turn 1 and fell all the way to last.
Meanwhile, Speed earned the holeshot again and went on a relatively easy cruise to the win, while Lasek picked up the silver medal in his Subaru after Piquet earned a black flag for running the joker twice (a no-no in GRC racing).