From press release
Audi has celebrated the second consecutive one-two win in the FIA World Endurance Championship (WEC).
Following their victory in the Le Mans 24 Hours in June, Marcel Fässler, André Lotterer and Benoît Tréluyer won again in the fourth race of the season, in Austin.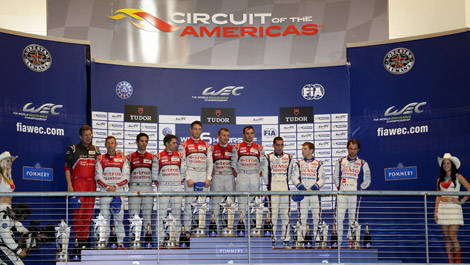 Photo: Audi
One and a half hours into the race drizzling rain set in that soon changed into a downpour. Numerous competitors slipped into the gravel and came to a halt in dangerous places. Therefore, race control decided to red flag the race.
About 50 minutes later, the teams resumed the race behind the safety car and, on mixed conditions tires, Benoît Tréluyer defended his lead successfully.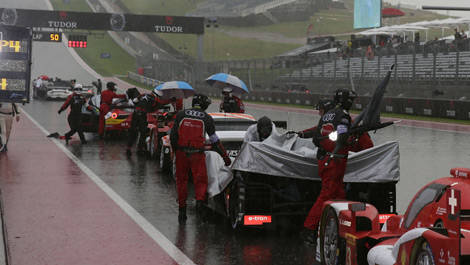 Photo: Audi
Round five on the WEC calendar will be held on the track at Fuji in Japan in three weeks from now.
Race results* – World Endurance Championship
1 - Fassler-Lotterer-Treluyer (Audi R18 e-tron quattro) - Audi - 157 laps
2 - Di Grassi-Duval-Kristensen (Audi R18 e-tron quattro) - Audi - 53"016
3 - Davidson-Lapierre-Buemi (Toyota TS040 Hybrid) - Toyota - 1'03"945
4 - Dumas-Jani-Lieb (Porsche 919 Hybrid) - Porsche - 1 lap
5 - Bernhard-Webber-Hartley (Porsche 919 Hybrid) - Porsche - 2 laps
6 - Wurz-Sarrazin-Conway (Toyota TS040 Hybrid) - Toyota - 2 laps
7 - Prost-Heidfeld-Beche (Rebellion R One-Toyota) - Rebellion - 8 laps
8 - Howson-Bradley-Matsuda (Oreca 03-Nissan) - KCMG - 12 laps
9 - Zlobin-Minassian-Mediani (Oreca 03-Nissan) - SMP - 12 laps
10 - Sharp-Dalziel-Brown (ARX 03b - Honda) - Extreme Speed - 16 laps
*Unofficial results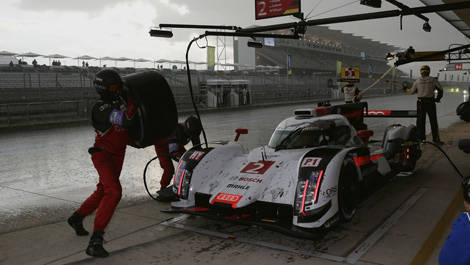 Photo: Audi