Press release
Source: Renault
Renault generated quite a buzz at the opening of this year's Frankfurt motor show, with the unveiling of an unprecedented four electric vehicle concepts, as well as releasing further details on the future infrastructure and technology behind them.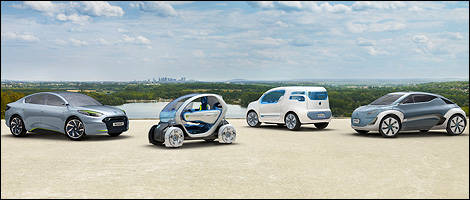 (Left) Fluence Z.E. Concept, Twizy Z.E. Concept, Kangoo Z.E. Concept, Zoe Z.E. Concept.
All Renault's concept cars on show in Germany preview its electric vehicle range which will be released from 2011 and cater for a wide variety of different customers and uses.
In summary, the Renault electric vehicle highlights for the show are:
*
Twizy Z.E. Concept
: pearlescent white ultra-compact and nimble 1+1 zero-emission city car, with 15kW motor (20hp) and footprint barely larger than a scooter (2.3m long, 1.13m wide and turning circle of 3m). It has a top speed of 47mph, with acceleration comparable to 125cc motorbike
*
Zoe Z.E. Concept
: compact, four-seat supermini for short daily journeys in urban areas. Scissor doors at the front and butterfly doors at the rear, with polyurethane gel for front and rear of car to underline its hi-tech feel and protect components against minor knocks in town. Features 70kW motor for 100 mile range, 21" alloy wheels and retractable rear spoiler for greater aerodynamic efficiency. Comes complete with personalisable avatar for driving information, mood lighting and futuristic 'hydrate, detox and active scent' climate control
*
Fluence Z.E
. Concept: electric version of all-new, elegant five-seat Fluence saloon with range of 100 miles for family driving, ahead of production for Israeli market with Project Better Place. Boasts low-rolling resistance Michelin tyres and Samsung Jet phones
*
Kangoo Z.E
. Concept: previews electric van for fleet and commercial use with 70kW electric motor, solar roof panels and even a heated steering wheel
* '
Quickdrop
': three distinct vehicle charging methods, of which this is one. Rapid exchange stations replace batteries within three minutes
In line with the values championed by the Renault brand, its electric vehicles will offer customers a spacious interior, comfort, quality and safety. They will also feature a distinctive design signature.
Electric vehicles represent the clean-break solution which can put zero-emission mobility within everyone's reach. In line with the brand's Renault eco² environmental policy, Renault Z.E. electric vehicles are poised to be marketed on a large scale to take a decisive stand on the environment.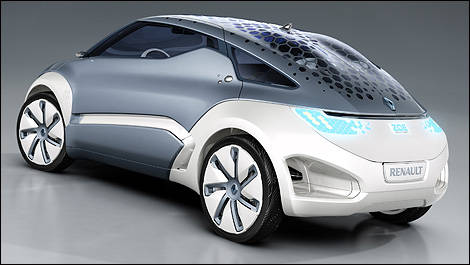 Zoe Z.E. Concept