The Scion FR-S and its twin, the
Subaru BRZ
, were likely some of the most talked about sporty production cars of last year.
I was called upon to judge production versions of the FR-S and BRZ separately and
together
, and every time I got behind the wheel of either car, I could easily see myself being a happy owner and modding the crap out of it.
However, I haven't done so for a number of reasons, but what I got to do was just as good.
As part of the Scion Tuner Challenge FR-S edition, members of the media (such as moi) were given the opportunity to drive and evaluate each Tuner Challenge FR-S and score them.
Scores were based on a series of principles, such as drivability, engine performance, handling, and braking. A few other criteria including fit and finish, comfort, and technology required scores, but in this game it's all about covering ground through apexes, going sideways, and flying in a straight line -- and, looking good while you're at it.

What is the Tuner Challenge?
The Tuner Challenge consists of a competition that pits three teams that were given a new
Scion FR-S
and the mandate to modify each and put them through a series of 11 events. The winning team of the Challenge gets to keep their car.
Some of the events include: Time Attack, Drag Racing, an Endurance test, and the all-important Show and Shine. I was called upon for the Media Challenge.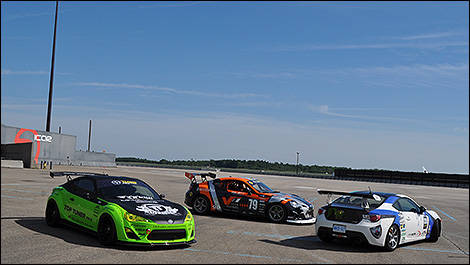 The Tuner Challenge consists of a competition that pits three teams that were given a new Scion FR-S and the mandate to modify each and put them through a series of 11 events. (Photo: Mathieu St-Pierre)