Model:
2005 to 2014 Ford Mustang/Boss/
Shelby GT500
Vehicle Type:
Sports Coupe/Convertible
Pricing for the used Ford Mustang:
Due to the tremendous number of combinations of body styles, powertrain choices and special editions, expect Mustang pricing from this generation to range anywhere from $7,000 to $75,000 or more, depending on the unit in question.
History/Description of the used Ford Mustang:
There's a new,
sixth-generation Mustang
arriving very soon -- meaning the fifth-generation model, available from 2005 to 2014 inclusively, is about to move fully into used-car territory.
Look for fifth-generation Mustangs with 6- or 8-cylinder power, starting from 210 ponies in earlier V6-powered units. Earlier V8 models in this generation, designated by the GT badge, housed a 4.6L mill good for 300 to 315 horsepower.
From 2011 on, a new V6 "base" engine turned out 305 horsepower, while a new 5.0L V8 made 412. From 2013 on, the 5.0L made 420 ponies.
The track-validated, lightweight
Boss 302 Mustang
variant got a tuned-up version of the free-breathing 5.0L, while "Shelby" Mustang variants received larger, supercharged V8 engines ranging from 500 to 662 horsepower, depending on the year.
Manual or automatic transmissions were available.
The Used Ford Mustang Test Drive:
As with any used ride, a few checks should be considered mandatory during your shopping and test-drive process.
Considering a convertible? Be sure the roof opens and closes smoothly in both directions with no hesitation, grinding or rubbing sensations. Inspect the top for rips and tears, and be triple sure to check for any moisture in the carpeting or area where the convertible top stores, which could indicate a leak. Avoid convertible models with ripped, torn or poorly patched tops, as well as models that smell like yucky mildew.
There's a good chance the Mustang you're considering has been driven hard by its former owner(s). In itself, this isn't a huge problem so long as the seller isn't trying to pass off a machine in need of a new clutch, tires or brakes. Finding a model with all service records is an excellent idea, as is a mechanical checkup at a Ford dealership. A dealer-trained mechanic can quickly and effectively check the condition of the tires, brakes, suspension, clutch, and more.
Many used Mustangs will have been modified in some form. Typically, intake and exhaust modifications are safe and pose no cause for worry. Shoppers are advised to use caution when considering models with altered engine management electronics, upgraded engine internals, nitrous, forced induction or other serious add-ons.
Feel the shift quality under heavy throttle from first to second gear in a used Shelby, Boss or manually equipped Mustang. Many owners complain of a grinding sensation or "rejected" shift, especially in the higher-performance models, which could be caused by bad synchronizers in the transmission or excessive clutch wear. There's some inconclusive talk about a "bad batch" of transmissions in owners forums, though signs of a bad gearbox (grinding, biting, slamming or clanking) should be apparent on a test drive.
2013 Ford Mustang Boss 302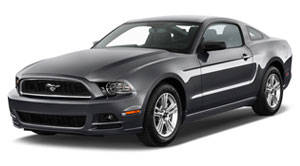 2013 Ford Mustang Boss 302