Legendary KISS bassist Gene Simmons and his wife, actress Shannon Tweed, helped unveil a custom 1956 Ford F-100 pickup nicknamed ''Snakebit'' at the 2013 SEMA Show in Las Vegas. The vehicle will be auctioned off next year by Barrett-Jackson, with proceeds going to help fund a children's hospital in Tweed's hometown of Saskatoon.
Called ''Wheels of Dreams,'' the project was originally conceived by Tom Foster, president of Saskatoon-based customizer Industrial Machine & Manufacturing, as a team-building exercise that could help raise funds for a new children's hospital. It was sponsored by the Ford dealer association in Saskatchewan.
This particular 1956 Ford F-100 houses a Ford Racing supercharged 5.4L V8 breathing through a high-performance exhaust system. A six-speed manual gearbox feeds the estimated 550 horsepower to the 20'' rear wheels (front wheels are 18''). A widened cargo bed and custom headlights round out the exterior changes.
The cabin of this metallic grey beauty features handmade panels and two-tone leather. The leather bench seat, carefully contoured to match the look of a Shelby Mustang interior, is from Glide Engineering.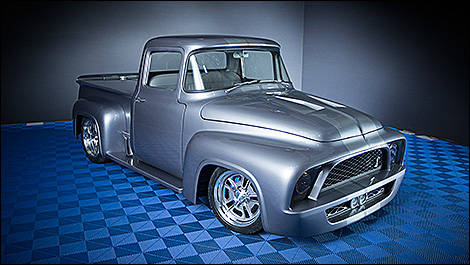 Photo: Ford