No fewer than 20 Mopar-modified vehicles from Chrysler, Jeep, Dodge, Ram, SRT, and Fiat will be on display at the 2013 SEMA Show in Las Vegas, along with hundreds of Mopar performance parts and accessories.
Here are some highlights:
Ram 1500 Sun Chaser
Specially designed for surfing enthusiasts, this Vibrance Orange Blast truck comes with a unique concept Mopar roof rack, dubbed the "surf rack," and two adjustable support rails housed within the tracks of the truck's bed to accommodate a long surfboard. As an added bonus, hooks on the side of the rails can carry up to four boards. Meanwhile, the "Flip-Up" seatback tailgate converts into a bench by folding back toward the cab of the truck.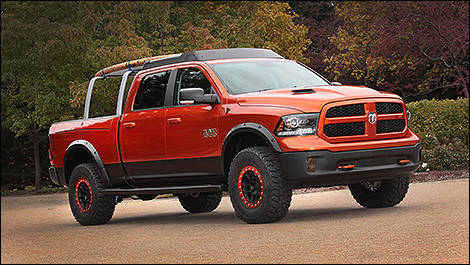 Ram 1500 Sun Chaser (Photo: RAM)
Fiat 500L Adventurer
The exterior of this 500L is enhanced with Bright White body paint, two-tone accent wheel flares and rockers painted in Satin Black, a roof panel in Vibrance Bright Orange, and a custom 500L graphic on the doors. Riding on 18" wheels, this five-seater offers black perforated suede Katzkin seats and pearl leather seatbacks with a Mopar coat hanger on the back of the driver's seat. Matching orange accents are featured inside as well.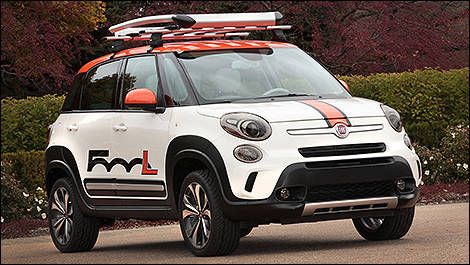 Fiat 500L Adventurer (Photo: Fiat)
Jeep Cherokee Trail Carver
Trail driving enthusiasts looking for a killer off-roader will love the Cherokee Trail Carver, which uses the Trailhawk 4x4 package powered by a 3.2L V6 engine as a starting point. Auburn Pearl paint graces the exterior, with topographical graphics on the hood and roof. The interior features Katzkin Amaretto leather seats, plus leather wrapping on the centre console, storage door and armrest.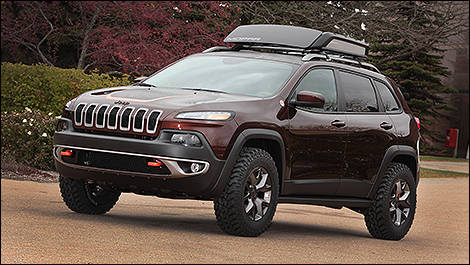 Jeep Cherokee Trail Carver (Photo: JEEP)
Chrysler 300S
Phantom Black Tri-coat colours this sinister-looking 300S, which also sports a 13-bar black "Gotham" grille surround, SRT rear spoiler, lowering kit, and 20" wheels finished in a Mopar bronze. Elsewhere, the Katzkin "Bisque" leather seatbacks are embossed with the "Imported From Detroit" logo.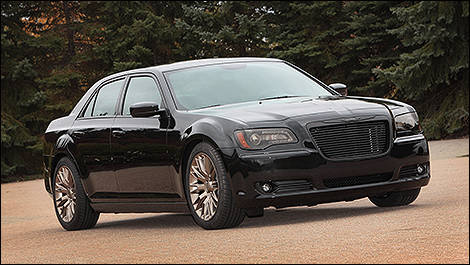 Chrysler 300S (Photo: Chrysler)