Lexus is showcasing nine different creations at SEMA, one of which is the result of a design contest. Judges had to sift through more than 600 entries, and Robert Evans' custom 2014 Lexus IS 350 came out as the winner. It features a one-of-a-kind aero styling package, a carbon interior package, special 20'' three-piece wheels and a custom paint job.
Other Lexus vehicles on display at SEMA include :
2007 Lexus IS 250 with 20'' wheels, a body kit, and F SPORT accessories;
2014 Lexus IS 300 with a ProLex Performance turbocharger, custom dual exhaust, and a JDM Altezza grille;
2014 Lexus IS 250 F 2014 by Paul Tolson, featuring a full metal wide body;
2014 Lexus IS 350 F SPORT with 20'' Vossen CVT wheels, an aero package, and dual exhaust;
2014 Lexus IS 350 F SPORT by Seibon Carbon, featuring a carbon fibre exterior, 20'' racing wheels, and an A'PEXi SPL suspension;
2014 Lexus IS 340 by Philip Chase, featuring a 2JZ-GTE engine and 5-speed manual transmission;
2014 Lexus IS AWD by Gordon Ting, featuring high-performance Brembo brakes, a performance exhaust, plus an air intake system;
2012 Lexus LFA by Guy S. De Alwis, featuring a carbon fibre body kit and 20'' wheels.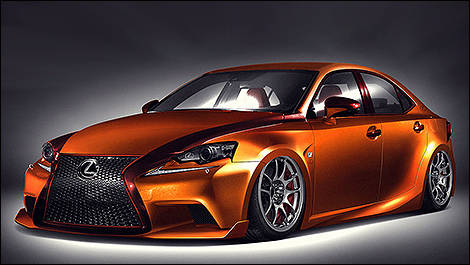 2014 Lexus IS 250 F 2014 by Paul Tolson (Photo: Lexus)