Ricardo Mauricio won the Brazilian stock car championship, this Sunday at Interlagos.
The Eurofarma RC driver pipped rival Thiago Camilo (Ipiranga-RCM) for his second title with a second place finish behind former F1 driver Ricardo Zonta, who secured his first win in the series.
"I want to thank God," admitted a relieved Zonta after the race. "This victory (comes) at a very important time in my career."
Caca Bueno completed the podium, while problems dropped Camilo, who was leading four laps from the finish, to sixth at the checkered flag.
Other big names in the race included Luciano Burti (seventh), Rubens Barrichello (eighth) and Bruno Senna (15th).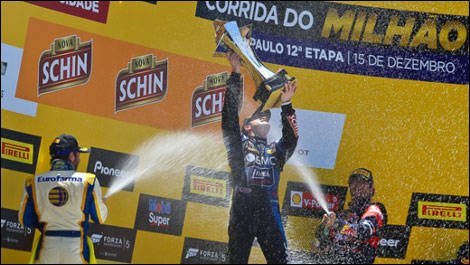 Mauricio, Zonta and Bueno celebrate on the podium (Photo: Rodrigo Ruiz/Vicar)
Race results – Brazilian stock car finale (Interlagos)
1. Ricardo Zonta (BMC Racing) – 30 laps in 51min46s059
2. Ricardo Mauricio (Eurofarma RC) – 0.707
3. Cacá Bueno (Red Bull Racing) – 1.536
4. Allam Khodair (Vogel Motorsport) – 1.688
5. Max Wilson (Eurofarma RC) – 4.458
6. Thiago Camilo (Ipiranga-RCM) – 4.698
7. Luciano Burti (Boettger Competições) – 15.715
8. Rubens Barrichello (Full Time Competições) – 18.782
9. Átila Abreu (Mobil Super Pioneer Racing) – 18.797
10. Valdeno Brito (Shell Racing) – 23.636
(…)
15. Bruno Senna (Shell Racing) – 35.056