Press release
Source: Subaru
Speech manuscript of Ikuo Mori President & CEO, Fuji Heavy Industries Ltd
Subaru has been pursuing the enhancement of driving quality, the essence of car performance. To achieve this, Subaru's unique "Symmetrical All-Wheel Drive (AWD)" system was developed by combining the Horizontally-Opposed engine and the AWD system. Started in our fiscal 2007 mid-term management plan, the product development has been devoted to the theme of integration of "enjoyable and dependable driving with the global environment."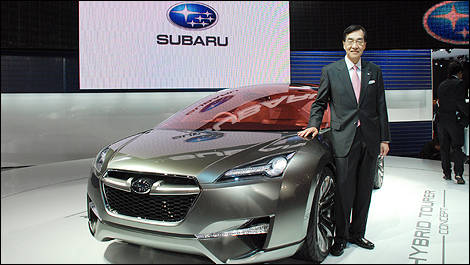 Mr. Mori, President and CEO of FHI / Subaru Hybrid Tourer Concept.
The models reflecting this vision were unveiled starting with the Impreza released two years ago, followed by the Forester and the Exiga, and the fifth generation Legacy completed the line-ups. In addition, Subaru has been striving to expand our product line-ups and technical development to meet rising demand for environmental protection. For instance, we have released the Horizontally Opposed diesel engine in the European market, and launched the Subaru's new generation transmission "Lineartronic" and the 100% pure electric vehicle "
Plug-in STELLA
" in the market. As regards safety performance, Subaru has acquired strong credibility throughout the world for our advanced collision safety performance. We have further refined the stability and safety performance of the Symmetrical AWD, and proposed unique products that provide confidence in driving, environment considerations and safety to our customers. We are proud that these products have been acknowledged and valued by our customers all over the world. As proof of this, in the US, the new Subaru Outback was recently named "MOTOR TREND's 2010 Sport/Utility of the year," after the Forester's win for the last year award. In Japan, the new Legacy was selected as the top ten finalists for the "CAR OF THE YEAR JAPAN 2009-2010" award.
Now, we would like to mention the alliance with Toyota Motor Corporation (TMC) and Daihatsu Motor Co., Ltd. (Daihatsu), announced in April last year. With this alliance, we have established a great relationship between Daihatsu in our OEM product supply. With TMC, the joint development has been proceeding successfully for the compact rear wheel drive sporty car powered by the Subaru's Horizontally-Opposed engine.