In this Tokyo Motor Show, our communication message is "Delivering a Moment of Liberation to All." We would like to introduce our products on exhibit based on our direction of product development in which we integrate "enjoyable and dependable driving with the global environment."
The first is a concept car named "
HYBRID TOURER CONCEPT
." The newly developed hybrid system is combined around Subaru's unique Symmetrical AWD. The four key aspects of "Driving," "Environment," "Safety" and "Design" are all integrated at a high level. This model describes our vision of a future grand touring car capable of integrating "enjoyable and reliable driving with the global environment." The concept car's packaging and design features four independent seats that provide comfortable space, while offering a sculpted aerodynamic form on its exterior.
The direct fuel-injection turbo gasoline engine achieves both Subaru's distinctive driving performance and environmental friendliness. It is combined with our unique hybrid system using the front-rear two-motor system, centered around the Symmetrical All-Wheel Drive (AWD). Safety aspects include the "EyeSight + (plus)" incorporated with the vehicle to-vehicle and vehicle-to-transportation infrastructure communication technology. The system is equipped as the upgraded version of the advanced driving assist system "EyeSight," the pre-collision safety function using a stereo camera. This model showcases Subaru's vision of future product development.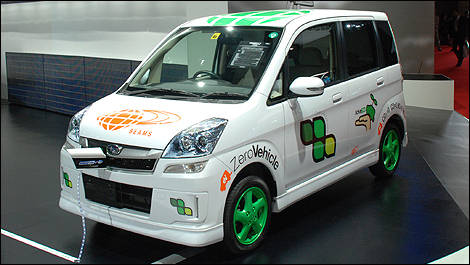 Subaru Plug-in STELLA
Now, we would like to introduce "Plug-in STELLA feat. BEAMS" to represent our environmental strategies. The model was specially designed on the basis of the electric vehicle "Plug-in STELLA" launched in the Japanese market this summer. In collaboration with the renowned specialty store BEAMS, the joy of using an electric vehicle, which is a friendly mobility for both human and earth, is expressed through the playful design and striking decals.
Next is the Subaru's advanced driving assist system, "EyeSight." Subaru vehicles have acquired a solid reputation for their risk avoidance features and collision safety performance. "EyeSight" further ensures safe and dependable driving by assisting the driver through preventive safety performance and a driving assist function using a stereo camera and image recognition technology. This unique technology has already been turned into practical use on the market. The EyeSight-equipped market model, Exiga 2.0GT EyeSight, is displayed in this motor show. We would also like to introduce our reputed models with improved driving performance, the STI series. The STI series reflect the technologies of Subaru's motor sports company, STI (Subaru Tecnica International).
The first vehicle is the "Impreza WRX STI CARBON." This model utilizes the popular WRX STI A-line as a base, and features the use of carbon material in the roof to achieve both a significant weight reduction and a lower center of gravity. This vehicle represents our proposal for enhanced driving excitement and pride of ownership.
Next vehicle is "Exiga tuned by STI," which was released yesterday. Using the Legacy-spirited, multi-passenger Exiga 2.0GT model as a base, this vehicle offers refined and distinctive driving performance and proposes a new "seven-seater sports" package in the minivan market.
In this motor show, Subaru unveils a vehicle line-up that integrates "enjoyable and dependable driving with the global environment," and a concept vehicle that reflects Subaru's new proposals for the coming years.
Subaru will continue not only to improve our driving performance to satisfy our customers, but also to produce models such as electric vehicles and hybrid vehicles that are friendly to the environment. We are currently working towards integrating Subaru's expertise into hybrid systems development with a view to introducing our first hybrid models in 2012. Please look forward to our new products.
photo:
Subaru