Model:
Subaru Forester
: Used
Vehicle Type:
Crossover
The Verdict:
Major issues are largely non-existent here, and the Forester is enjoying a reputation for reliable long-term performance. Shop confidently if you find a good deal on a nicely maintained Forester that fits your needs and budget.
Price Of A Used Subaru Forester:
Depending on engine and trim, shoppers will find used Forester examples starting from under $10,000 for an older unit with some mileage, and can expect to pay upwards of $25,000 for a newer, loaded, low-mileage unit. There's plenty of selection in the high-teens.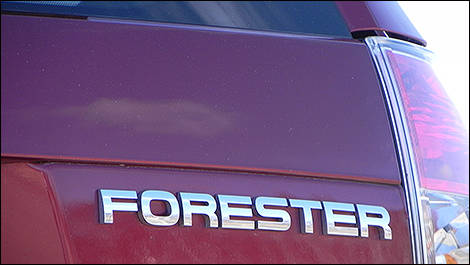 Photo: Justin Pritchard
What Owners Like:
Owners commented positively on fuel mileage, performance from the standard engine with manual gearbox, the slippery-weather assurance of the AWD system, and laid-back, easy-to-drive character. An easy-to-use control layout and highly functional interior round out the package.
What Owners Dislike:
Common complaints centre around bland looks, poor performance from models with the automatic transmission, and a clumsy cupholder design. Other complaints include sub-par audio system performance and uncomfortable seats.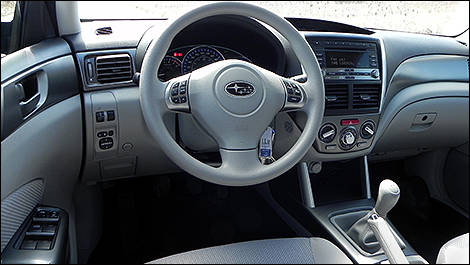 Photo: Justin Pritchard
History/Description Of The Used Subaru Forester:
The 2009 to 2013 generation of Subaru's Forester enjoyed a healthy sales life and a loyal following of owners. A compact crossover SUV with an eye for safety, confidence, and sensibility all models got five seats, All Wheel Drive (AWD) and over 1,900 litres of cargo space.
Available feature content included navigation, Bluetooth, heated leather seats, xenon lights, and more. Building on a solid product noted for safety and value, this generation Forester was available in numerous models and trim levels to fine-tune it to the needs of any shopper.
The Forester came with one of two engines: Standard was a proven 2.5L BOXER 4-cylinder engine making 170 horsepower. Available in the 2.5XT model was a turbocharged version of this engine, which made 225 horsepower. Manual or automatic transmissions were available, depending on the model selected.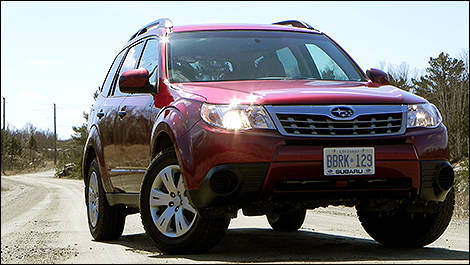 Photo: Justin Pritchard
Common Issues With A Used Subaru Forester:
Check for proper operation of the air conditioning system. Some owners reported issues with the A/C, possibly accompanied by excessive noise when the system is turned on. Turn on the A/C, and ensure that with no excessive noise it begins pumping cool air into the cabin within a few seconds. If a problem is detected, have it checked out ahead of your purchase.
Be sure to determine where the timing belt lies within its service life on the Forester you're considering. If a replacement is due, it could cost up to $1,000. If you neglect said replacement, it could cost you an engine.
Pop the hood and listen to the engine idle. A squealing or scraping noise from the front of the engine could be caused by a belt-tensioner pulley that's starting to fail. The noise occurs when bearings within the pulley begin to wear before failing out.
Signs of turbocharger trouble on a Forester XT may include smoke from the exhaust at startup or after a drive. Be sure the turbocharged Forester you're considering hasn't been pre-warmed ahead of your test-drive to conceal a smoke issue. Note that models treated to regular oil changes should have no turbocharger issues.
Finally, front seats, hatchback prop struts and paint on the rocker panels just behind the front wheels should be scrutinized for signs of wear. Confirm proper operation from the xenon headlights (if equipped) as replacement bulbs for this up-level lighting system can be pricey.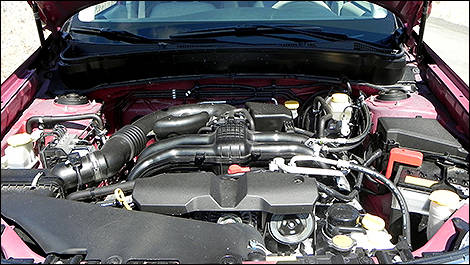 Photo: Justin Pritchard
2013 Subaru Forester