From series' press release
Team Penske announced that it would form a partnership with one of the most successful motorsport teams in Australia to compete in the V8 Supercars Championship, beginning in 2015.
Working with Dick Johnson Racing (DJR), the longest-established motor racing team in Australia, Team Penske plans to race next season in the ultra-competitive touring car championship.
DJR Team Penske will compete with Ford Falcons in the 2015 V8 Supercars Championship with NASCAR driver Marcos Ambrose behind the wheel.
Ambrose will return to the category where he drew international acclaim to race the iconic No. 17 Ford for DJR Team Penske.
Ambrose is a two-time V8 Supercars champion; winning back-to-back titles in 2003 and 2004.
He transitioned to a winning career in NASCAR where he has earned seven wins and eight pole positions while competing in the Sprint Cup, Nationwide and Camping World Truck Series over the past nine seasons.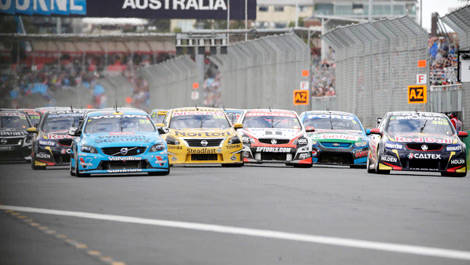 Start of the Melbourne race. (Photo: V8 Supercars)