On November 15, the Green Car Journal will hand its
Green Car of the Year Award
in recognition of a manufacturer's environmental efforts. This distinction was instituted back in 2005 by the Green Car Journal, the best-selling magazine focused on environmentally friendly advancements in the auto industry. It now receives greater attention given the increasing consumer demand for fuel-efficient vehicles.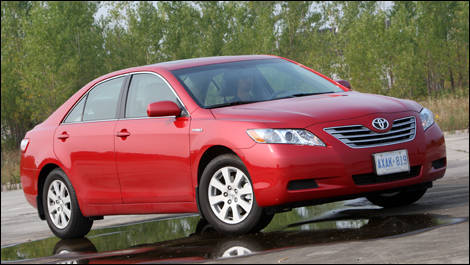 Toyota Camry Hybrid : the 2007 Green Car of the Year
The jury is made up of experts in transportation, auto manufacturing and environmental protection. They include Carl Pope, President of the Sierra Club, Christopher Flavin, President of the Worldwatch Institute, Jean-Pierre Cousteau, President of the Ocean Futures Society, Jonathan Lash, President of the World Ressources Institute, and legendary racer turned designer Carroll Shelby.
Five different models will be competing for this award. Each must be available for sale prior to January 1, 2008.
Last year, the 2007 Toyota Camry Hybrid was chosen as the winner. In 2006, Mercury's Mariner Hybrid took home the award.
photo:
Philippe Champoux