For the 2013 model year, Chevrolet has introduced an all-new SUV called the
Trax
This is not to replace any existing model in their lineup, and while it is available in Canada and an additional 139 markets around the world, it is not available for our American cousins.
So, why is it on sale in Canada?
According to Dayna Callaway, Assistant Marketing Manager of Crossovers for General Motors Canada, the Canadian market is very different from the American market, hence why they felt that this entry-level 'ute could succeed here. Plus, with this vehicle, they can target the buyer who would be looking at vehicles like the Hyundai Tucson and the
Nissan Juke
.
So, who is this buyer demographically?
According to GM, the Trax will attract mostly females aged 25 to 38 years old. Most of them will have graduated from university, have an active and social lifestyle and are tech savvy.
To attract this young, sophisticated buyer, the Trax is thus available with one of GM's smartest gadgets called
MyLink
. This infotainment system allows for Bluetooth connectivity for your phone and audio, USB ports, and XM Satellite radio along with Stitcher radio and the upcoming BringGo navigation app.
GM is convinced that this vehicle's buyer will be so in tune with the times that they won't even listen to CDs. If, however, you do listen to CDs, you'll have to settle for the 1LT model, the only one in the range that has a CD player.
GM is also convinced that the Trax buyer will value hydration as it has six cupholders. Add to that an additional 19 cubbyholes, pockets and storage compartments and this little 'ute should (hopefully) be able to hold all your daily necessities.
The Trax should also appeal to those who value safety, as it has no less than 10 standard airbags. To help you avoid having an accident in the first place, traction control and stability control systems are standard. However, 4-wheel disc brakes are not. So, if you buy a front-wheel drive model, you only get drum brakes in the rear.
So, where does the Trax fit in General Motors' massive lineup?
Given its size and a starting price of just $18,495; the Trax is at the very bottom of their SUV/CUV consumer-chain. Those who want a bit more space can opt for the
Orlando
(another vehicle not sold in the States). Want to go bigger still and the
Equinox
and
Traverse
might do the job for you. With the Trax, GM's Chevrolet division hopes it has left no holes in its lineup. So, regardless of what a potential customer is looking for, they have a vehicle to fill that niche.
Will the Trax succeed?
That, only time will tell. However, if you like the size and efficiency of the Trax (rated at a combined fuel consumption of 6.9L/100 km), but would prefer more luxury, not to worry; its sister vehicle (the
Buick Encore
) will be for sale in Canada soon.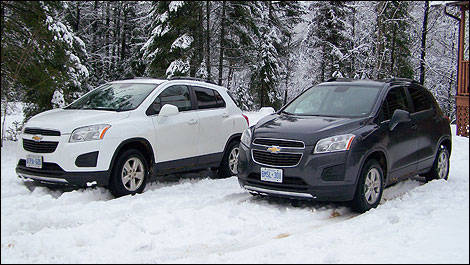 Photo: Nauman Farooq
2013 Chevrolet Trax