Boucherville, Quebec
-- You know the T-Rex, that striking three-wheeler created by Quebec's Daniel Campagna in the early 1990s? Well, it's now enjoying a new lease on life. To mark the occasion, newly-formed Campagna Motors brought together investors, suppliers and friends last Friday along with members of the T-Rex Club on Saturday and shouted to the world that their product is absolutely not on the endangered species list.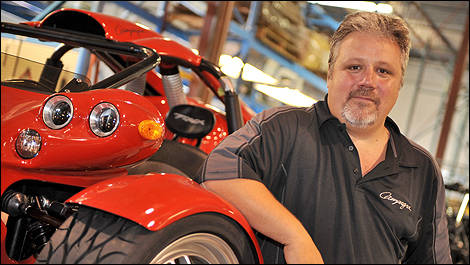 "We don't do craftsmanship at Campagna Motors", says André Morissette, President of Campagna Motors.
With an extremely-limited production over the past 15 years (making for a higher resale value), the T-Rex began Life No. 3 when André Morissette and David Neault purchased the remaining assets of T-Rex Vehicles, which filed for bankruptcy in the spring of 2008.
Since, a new business strategy has been put in motion and, according to executives, the vehicle itself has received a couple of upgrades. Overall, though, the T-Rex is still a three-wheel, two-seat, mid-engine race car.

Far from the "Cottage Industry"
The production system of the T-Rex sets it apart from similar existing machines around the globe. After all, it's the only one to use an industrial approach. "We don't do craftsmanship at Campagna Motors", says Morissette, President of Campagna Motors. "We're a highly-structured company that uses the 'kaizen' process to manage production."
In January, Campagna Motors inaugurated its new facilities in Boucherville. Located next to Highway 20, the assembly plant and offices spread over about 25,000 square feet. The T-Rex was formerly built in Plessisville, in Central Quebec.
The company now boasts 23 employees (30 by the end of this year), including four engineers. The tubular chassis is the only component that's manufactured on site. All the other parts come from outside contractors and are assembled in Boucherville using Toyota's flow-based production approach called 'kanban'.
Right now, a team of 5 to 6 workers produces 2 to 3 units on a weekly basis. The assembly line features 18 sub-stations and roughly 40 man-hours are required to put together all 3,500 bits and pieces that make up the T-Rex. "Every part is instrumental and not a single one is just for kicks... except maybe, you know, the throttle!" claims Morissette. "We build the vehicle and offer a choice of colors, but we don't customize it like our predecessors did. This way, we avoid unpleasant misunderstandings with our customers, most of whom are pretty demanding."
The engine of the T-Rex 1400R is derived from the Kawasaki ZX-14R and produces 197 horsepower. Not bad for a vehicle that weighs less than 500 kilos!