Like all auto journalist, I'm asked the question "What is your favourite car?" on a regular basis. My answer is always the same: "No such thing. I can give you my Top 10 if you'd like". To this, they usually look away and walk off.
It's not every day that a car (or truck) manages to wedge itself on this exclusive, highly glamourous list.
Even so, it happened just recently with the BMW 1M Coupé. Certain cars display such character and personality that the simple fact that I will be driving one makes my week.
As a side note: It took nearly 5 years to capture ten worthy cars and to cram them into my personal database. Over the last 7 years or so, only half have changed. Also, as station wagons are uber-cool, they would have taken up all 10 spots. I thought I'd give other cars a chance to get on the list.
Here then are my Top 10 all-time faves.
10- Jeep Grand Cherokee
The Grand Cherokee is a recent addition to my list because the latest SUV from Jeep is the best ever from the storied brand. Finally, the GC is a world-class SUV packed with refinement, a smooth engine and a great cabin. The GC is now a yardstick.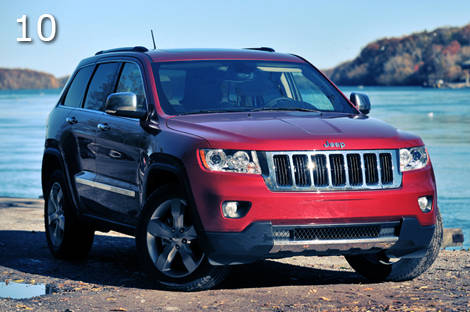 Photo: Matthieu Lambert/Auto123.com