Mercedes-Benz' new 2015 GLA-Class is a very interesting product where it links a number of existing compact products in the brand's portfolio.
The question is: Will it distinguish itself enough from the B-Class and the upcoming
C-Class
to find its true place? The recently introduced CLA-Class has not quite hit the heights it was expected to, if only because consumers are constantly drawn to the C-Class for its perceived extra prestige and price positioning.
As far as the GLA-Class is concerned, given that it's pricing is expected to be squarely between that of the 2014 CLA- and C-Class, it might be that the traditional Mercedes buyer once more opts for the C over the GLA.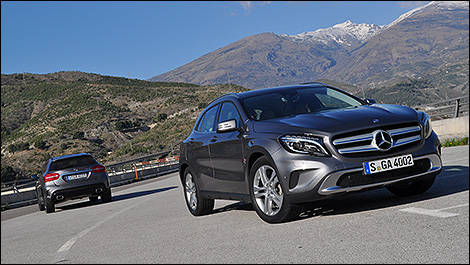 Photo: Mathieu St-Pierre
In order to help you understand what the GLA-Class is all about, here are the top 10 points to remember:
The GLA 250 features a very economical and potent turbocharged 2.0L 4-cylinder engine and a high-tech, dual-clutch automatic transmission.
Permanent AWD 4MATIC is standard, unlike the CLA and C-Classes.
The GLA-Class is part of the G, GL, ML, GLK group -- G brings robustness.
Mercedes puts much more emphasis on off-road capability than you would expect.
The CLA-Class offers a raised seating position compared to the CLA- and C-Class.
With the seats down, total cargo offers up to 1,235 litres of volume.
The segment in which the GLA-Class will thrive will likely show a 20% growth, thus showing a high capture potential. In other words, if you want to be trendy, the GLA's the way.
If the regular 250 is too mundane, a 45 AMG version is offered with 355 horsepower and 1.8 bar of boost.
The GLA 45 AMG boats serious performance numbers including a 4.8-second sprint to 100km/hr and a limited 250km/hr top speed.
The 2015 Mercedes-Benz GLA-Class drives as good as it looks. Read more about the 250 and the 45 AMG.