In a stunning bit of news, the first hydrogen-powered Toyota vehicles will hit the market as early as next year.
"We aren't trying to re-invent the wheel; just everything necessary to make them turn," said Bob Carter, senior vice president of automotive operations for Toyota Motor Sales U.S.A. Inc., at the opening of the 2014 Consumer Electronics Show (CES) in Las Vegas. "Fuel cell electric vehicles will be in our future sooner than many people believe, and in much greater numbers than anyone expected."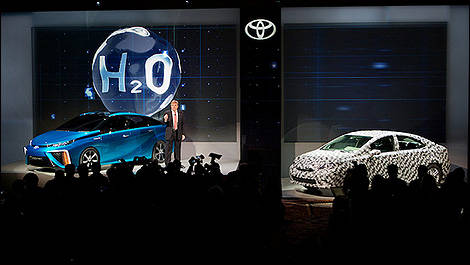 Photo: Toyota
During the press conference, Toyota showcased the FCV midsize sedan concept in Radiant Blue, as well as the camouflage-taped engineering prototype that's been used for extensive and extreme on-road testing in North America for more than a year.
Hydrogen-fuelled Toyotas will initially be sold in California, where state authorities have approved more than $200 million in funding to build about 20 new stations by 2015, a total of 40 by 2016, and as many as 100 by 2024.