Ford's EcoBoost engines
are so popular now that two million units have been built since 2009. The milestone engine wound up in a Ford Escape produced in Louisville, Kentucky.
More than 100,000 EcoBoost engines are currently built every month, with a target of 1.2 million for 2013 -- up more than 60% from 2012. For the first time, EcoBoost production is expected to exceed Ford's global diesel engine production.
Customer demand so far exceeds projections globally, with 90% of Escape buyers in North America and 95% of Kuga buyers in Asia choosing EcoBoost. Moreover, in diesel-centric Europe, 39% of Focus customers opt for EcoBoost.
Ford had to double output at its Cologne plant in Germany, which builds a thousand
1.0L EcoBoost engines
per day. It also invested $200 million to build 2.0L EcoBoost units in the U.S.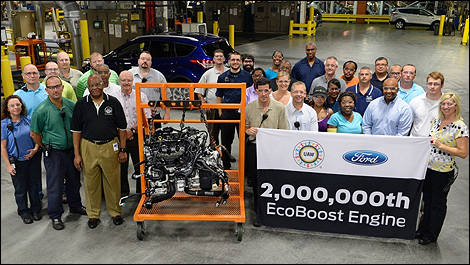 Photo: Ford