Canadian Jean-François Dumoulin has found a drive to
join his brother Louis-Philippe on the grid
of this year's 24 Hours of Daytona.
"JF" will share Magnus Racing's No. 44 911 GT America with John Potter, Andy Lally and Wolf Henzler, racing in the GTD category of the field.
"LP" is racing in the same category, in the same car, but with a different team: Alex Job Racing.
"It is very impressive what Magnus Racing has achieved in a very short amount of time," said the 37-year-old Jean-François.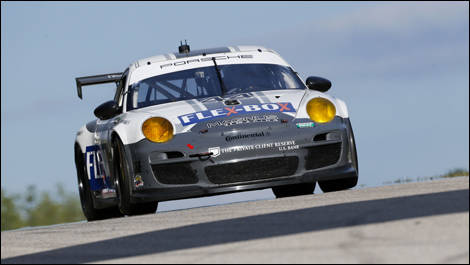 No. 44 Magnus Racing Porsche 911 (Photo: Magnus Racing)
"Even though I'm new to the team, I've known a lot of the guys here for some time, so I already feel at home. The GTD class is looking extremely tight, but this team has proven their ability to compete with anyone over the last few years. I look forward to contributing my part."
Both Dumoulin brothers currently race in NASCAR, but have many years of experience in sports car racing. JF has two victories at Daytona to his name, from 2004 and 2007.
The races starts January 25th, at 2:30 pm.