Canadian Michael Valiante and his teammates Richard Westbrook and Mike Rockenfeller drove their Corvette DP to fourth overall, this weekend as the 24 Hours of Daytona kicked of the 2014 United SportsCar Championship (USCC).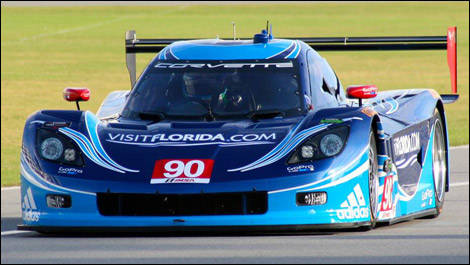 Michael Valiante, Corvette DP (Photo: Spirit of Daytona)
Although he was the best placed, Valiante was not the only Canadian taking part in the famous twice around the clock event this year. His countryman Paul Dalla Lana, who co-drove a BMW Z4, also cracked the top 30 with a 25th place finish overall and 7th in the GTD category.
He narrowly beat Louis-Philippe Dumoulin, whose Porsche 911 GT America was classified 8th in the GTD class and 26th overall. His brother Jean-François, who also drove a 911 GT America but for a different team, saw the finish in the 31st overall.
SRT factory driver Kuno Wittmer was certainly one of the best Canadian candidates for victory, but he and his team had to settle for 27th overall and 6th in the GTLM category.
In his debut race for Starworks Motorsport, Kyle Marcelli drove to 42nd overall in PC.
Both IndyCar drivers Alex Tagliani and James Hinchcliffe were forced into retirement with their respective teammates Conor Daly and Sylvain Tremblay.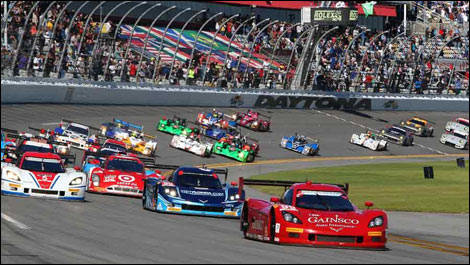 24 Hours of Daytona (Photo: IMSA.com)
Race results – 24 Hours of Daytona (Daytona International Speedway)
1 - Barbosa/Fittipaldi/Bourdais (Coyote-Corvette) - ActionEx. - 695 laps
2 - Taylor/Taylor/Taylor/Angelelli (Dallara-Corvette) - Taylor - 695
3 - Frisselle/Frisselle/Martin/Giroix (Coyote-Corvette) - Action Ex. - 695
4 - Westbrook/Valiante/Rockenfeller (Coyote-Corvette) - SoD - 693
5 - Graf/Luhr/Brundle (Oreca 03-Nissan) - Pickett - 692
6 - Tandy/Lietz/Pilet (Porsche 991 GT2) - Porsche-CORE - 679
7 - Auberlen/Priaulx/Hand/Martin (BMW Z4 GT2) - Rahal - 679
8 - Yacaman/Pla/Rusinov/Webb (Morgan-Nissan) - OAK - 678
9 - Bennett/Braun/Gue/Wilkins (Oreca FLM09) - CORE - 678
10 - Potolicchio/Marsal/Kimber-Smith (Oreca FLM09) - 8Star - 677
(...)
25 - Cameron/Dalla Lana/Farfus/Palttala (BMW Z4) - Turner - 659
26 - MacNeil/Keen/Van Gisbergen/Lewis/Dumoulin (Porsche 991) - Alex Job - 656
27 - Bomarito/Wittmer/Bell (SRT Viper GT2) - SRT-Riley - 653
(...)
31 - Potter/Lally/Henzler/Dumoulin (Porsche 991) - Magnus - 645
(...)
42 - Tutumlu/Marcelli/Popow/Fuentes/Kaffer (Oreca FLM09) - Starworks - 612
(...)
44 - Mucke/Turner/Lamy/Stanaway/Dalla Lana (Aston Martin Vantage GT2) - AMR - 610
(...)
57 - Tremblay/Long/Hinchcliffe (Lola B12/80-MazdaD) - SpeedSource - 369
58 - Cumming/Tagliani/Mitchell/Daly (Oreca FLM09) - RSR - 361