From press release
French Canadian race car driver Alex Tagliani had just taken the lead of the Prototype Challence (PC) class, racing in the 12 Hours of Sebring, when a rival took him out of the race by mistake.
Gaston Kearby was lapped for the 14th time by Tagliani when he spun out of corner 16. Ignoring the marshal's signals, he rejoined the track directly in the path of "Tag".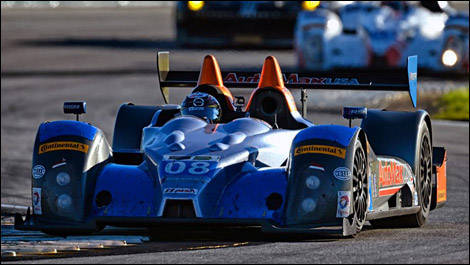 Alex Tagliani, Oreca FLM-09 (Photo: Facebook)
The former IndyCar driver avoided most of Kearby's car, but the impact was still so hard, the officials had to deploy the safety car to clean the debris from the two stricken prototypes.
Tagliani suffered a minor wrist injury. Kearby was unharmed.
Meanwhile, SRT Motorsports and Kuno Wittmer were making steady progress in the GTLM category. Co-driving the No. 93 Viper GTS-R with Jonathan Bomarito and Rob Bell, Wittmer eventually clinched second position in class.