Corvette Racing's new C7.R made its first public appearance, Saturday during a motorsports gathering at Laguna Seca.
Factory driver Tommy Milner performed two demonstration laps of the Laguna Seca Raceway aboard the camouflaged racer, which is set to debut in January, at the inaugural race of the new United SportsCar Racing series, the 24 Hours of Daytona.
"The Corvette Celebration at Laguna Seca was the perfect setting to provide a glimpse of things to come by doing a few laps with the new Corvette C7.R race car," Mark Kent, Director of Racing for Chevrolet is quoted saying by Racer.com.
So far, only Porsche officially unveiled the car it will use during the first season of the USCR.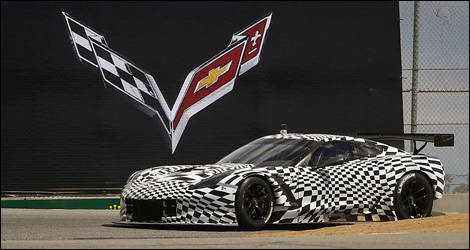 Corvette C7.R, Laguna Seca (Photo: Chevy Racing)