Over the past few weeks, a trend has been emerging in the electric vehicle (EV) sector: orders are on the decline. This is the case for the Volkswagen Group, but at least in its case, the drop is accompanied by record sales of EVs.
That might seem like an odd confluence of events, but in today's topsy-turvy automotive universe, it's entirely possible.
Let's start with the results. In the first nine months of the year, Volkswagen saw a 45-percent increase in sales of electric models compared to 2022. In total, some 531,500 EVs were delivered to buyers, representing 7.9 percent of the group's global transactions. The most spectacular increase was in Europe, with 341,000 deliveries, a 61-percent increase over the previous year. In the United States, VW recorded 74-percent growth, totaling 50,300 sales.
In China, there was a 4-percent gain, totaling 117,100 units.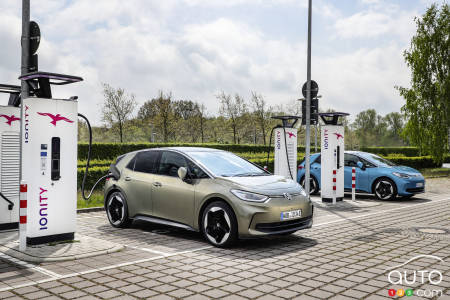 Normally, this is all cause for celebration. But there's another side to the coin. Volkswagen CFO and COO Arno Antlitz said that orders for electric vehicles had dropped by half by the end of the third quarter, falling from 300,000 last year to 150,000 units.
Hildehard Wortmann, Volkswagen's Head of Marketing and Sales, revealed at the beginning of the month that orders had fallen below the company's expectations due to a general downward trend in the markets.
This decline can be explained relatively easily. First, prices of electric vehicles remain high. Those who could afford to buy one did so quickly. For many of the remaining potential buyers, EVs remain simply too expensive. Add to that high interest rates, and you have a solid – if partial – explanation for the drop in orders.
Volkswagen's best-selling electric vehicles are the ID.4 and ID.5 twins (crossover and coupe version) with 162,100 units sold. The ID.3 comes in second with 90,500 sales. Third place is held by an Audi product, the Q4 e-tron having attracted 77,900 buyers.