In 2020, Volkswagen will introduce an all-new electric compact SUV based on the I.D. CROZZ concept that made its North American debut today at the 2017 Los Angeles Auto Show. This first next-generation EV from the German automaker is expected to precede the revival of the iconic Volkswagen Bus in 2022, with a vehicle based on the I.D. BUZZ concept.
In fact, the modular electric platform showcased here will underpin all future Volkswagen-branded EVs. The company's goal is to produce and sell around 20 different models globally by 2025.
"The I.D. CROZZ and the I.D. BUZZ will help Volkswagen to kick off an EV revolution. All of our I.D. concept cars demonstrate the inherent flexibility, driving range and smart design that can serve the needs of 21st century drivers."

- Hinrich J. Woebcken, President and CEO, Volkswagen Group of America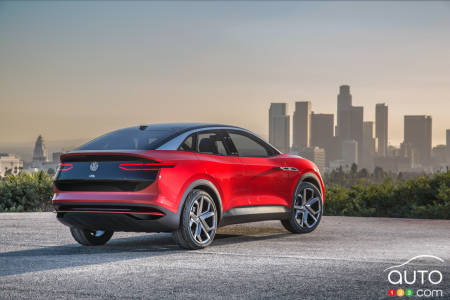 The Volkswagen I.D. CROZZ, first shown in Shanghai in April and updated in Frankfurt earlier this year, is a futuristic vehicle with a 360-degree light show that greets the driver and passengers upon entry, voice-activated doors and trunk, plus fully autonomous driving technology which Volkswagen plans to deploy in 2025.
That's all great, but what can consumers expect when it first arrives on the market? Well, the I.D. CROZZ is sized similarly to the 2018 Volkswagen Tiguan in a four-door coupe shape, with the interior space of a midsize SUV. With front doors that open to an unusually wide 90 degrees, rear sliding doors and the lack of a B-pillar, it can reportedly hold a bicycle sideways behind the front seats. Meanwhile, the rear seats offer legroom that's comparable to a luxury car's and fold up when needed for storage.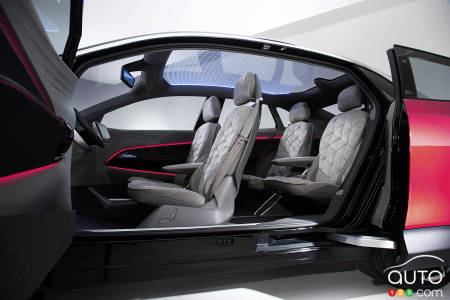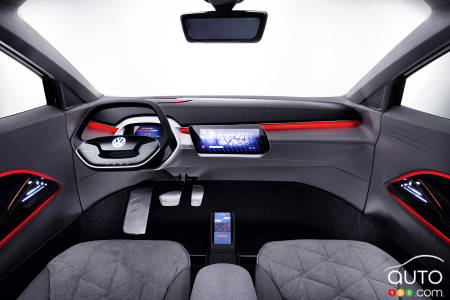 The interior uses an "Open Space" design concept with lounge-like amenities, from the Alcantara-covered seating surfaces to the motion-controlled virtual light shade. An augmented reality heads-up display, digital door panels, voice and gesture control, touch displays and capacitive button fields complete the package.
Now, you're probably all wondering about performance, so here are the specs: The I.D.CROZZ combines an 83-kWh lithium-ion battery pack with a pair of electric motors, one on each axle. The front motor generates 101 horsepower and the rear 201 hp, for a combined system output of 302 hp that's governed by VW's 4MOTION all-wheel drive system. Expect a range of up to 480 kilometres. As for charging, the I.D. CROZZ recovers 80% of its charge in 30 minutes via a DC fast charger.
Excited yet?