Among the 23 electric vehicle models that Volkswagen intends to produce by 2025, there will assuredly be utility models. One of them, promised by the company for 2020, will be based on the I.D. CROZZ concept vehicle first unveiled in Shanghai this past spring. The concept resurfaces this week at the 2017 International Motor Show Germany in Frankfurt in a more highly evolved form, one that takes it much closer to being production-ready.
A more fine-tuned interior finish reveals a space that is airy and roomy, and fitted with a highly versatile seating concept. The absence of B-pillars allows for a more expansive view and gives easier access to the cabin. Doors can be opened and closed, and the automatic drivers function activated, by voice commands. An advanced air-purification system is part of the mix, as is a new operating system dubbed "vw.OS" allowing quick software updates at any time.
The I.D. CROZZ has also evolved in terms of its looks. It's expected that the production model will be available in a range of bright colours (for example, the Hibuscus Red shown here), along with a contrasting-coloured roof, and features latest-generation LED headlamps and larger wheels that give it a distinctive signature.
In terms of its mechanics, the new SUV, equipped with the 4MOTION all-wheel drive system, uses two different electric motors for the front and rear sets of wheels. Its power output is 300 hp and its range a hefty 500 km; using a fast-charging station will bring the charge up to 80% of capacity within 30 minutes. As for its driving dynamics and road handling, Volkswagen compares it to the Golf GTI – another reason to feel excited about the coming of this futuristic vehicle VW sees as sitting partway between an SUV and a four-door coupe.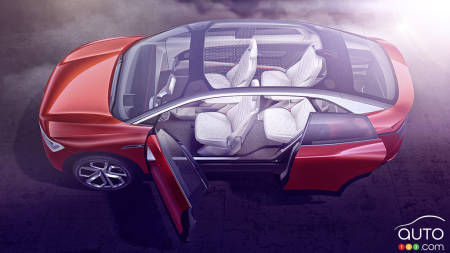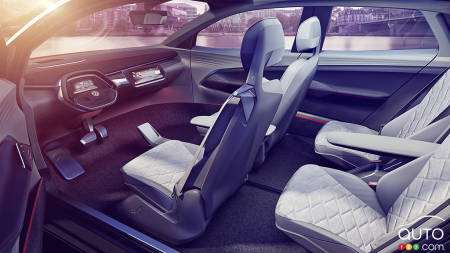 For more details on Volkswagen's electrification strategy (it plans to invest 6 billion Euros to develop its electric vehicles in the next five years), check out the company's presentation at Frankfurt showcasing the I.D. CROZZ, the new T-ROC and a number of other models.