After making an appearance at the 2011 Frankfurt Auto Show in concept form, the Volkswagen New Beetle Fender was unveiled today in Leipzig as a production model along with further details and specifications.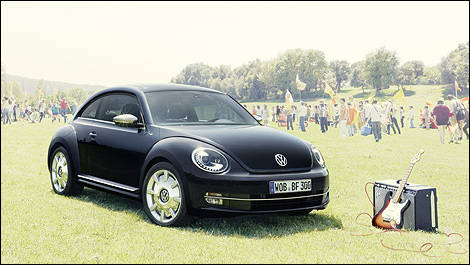 Photo: Volkswagen
In addition to a subwoofer with auxiliary input and Bluetooth connectivity, the Beetle Fender houses a distinctively painted dashboard that features the
signature colours of Fender guitars
.
Under the hood is a 200hp 2.0L turbocharged four-cylinder TSI engine. The car rides on 18'' alloy wheels styled after a 33rpm vinyl record.
Retro-looking tailpipes, red exterior accents, and a lowered suspension are part of the mix as well.
Volkswagen stayed mum on pricing but confirmed that this special edition of the Beetle will arrive in North American showrooms this fall.