From press release
One week after climbing onto the podium in the Tudor United SportsCar Series, the North American Endurance championship, Montreal driver Kuno Wittmer was back in competition again this weekend on the urban track in Toronto.
Invited to drive a brand new Dodge Viper GT3-R in the American World Challenge GT Series, Kuno Wittmer's only goal was to claim another spot on the podium. He successfully achieved that objective by finishing second on Saturday and then winning a spectacular race on Sunday.
In a series that he has won on six different occasions between 2008 and 2010 before moving to the elite of Endurance racing, Kuno Wittmer was anxious to take to the temporary urban track in Toronto that he knows so well.
This year, the World Challenge Series is more highly contested that ever with around fifty drivers entered in the GT and GTS classes. A large number of manufacturers are also involved. Third after the first practice session, Kuno Wittmer then qualified his No.92 Viper GT3-R in the first starting line for the first of two races in the programme.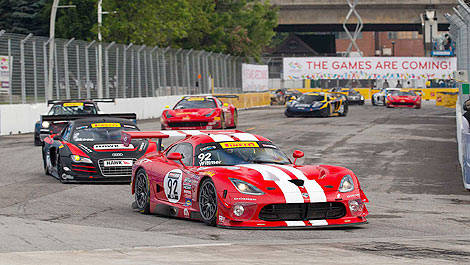 Kuno Wittmer, SRT Viper (Richard Prince/SRT Motorsports)
During Saturday's round, two collisions in the pack were followed by caution periods, considerably reducing the number of regular race laps, thereby forcing Kuno to be satisfied with second place as he crossed the finish line hot on the tail of the winner.
« During the last lap, I got very close to Englishman Nick Tandy. I was right in his wheels and he was a little blocked by the traffic of cars we were lapping but we were in the twisty part of the track and it was just not possible to overtake him » explained Kuno Wittmer, who added : « for the Viper GT3-R's first World Challenge Series race, finishing second and ahead of Ferrari, McLaren, Lamborghini, Bentley, Audi and other GT cars is absolutely excellent. For me, my goal was achieved and we proved that the Viper GT3-R is competitive straight away after being built ! ».
Sunday, Kuno Wittmer was starting in second position but managed to take over the lead as of the third corner. The gap to Tandy's second place Porsche was only slight and never surpassed half a second.
These two World Challenge Series races, held as part of the Toronto Indy, were a unique opportunity to see the Quebec driver in this series in 2014.
As of the end of the month, he will continue his Endurance season, where he always remains in the hunt for the victory and the Tudor United SportsCar GT Le Mans class title. The next round will take place on the road course of the Indianapolis Motor Speedway in Indiana on July 25th.