General Motors Europe made some great product launches at the 2006 Paris Motor Show, but perhaps none more anticipated than the spectacular Chevrolet WTCC Ultra Concept.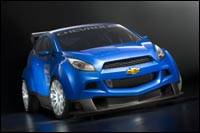 (Photo: General Motors)
Directly derived from the World Touring Car Championship, this ready-to-drive racing car can get your adrenaline flowing and your mouth foaming just by looking at it. The PR folks say it "takes the Chevrolet design language to the extreme while embodying the brand´s spirit and race history".
It certainly is dramatic, sleek and muscular. There's a nice contrast between the sharp lines and the more flowing surfaces. The car is also exceptionally aerodynamic thanks to a raked windshield, a completed body kit, a huge rear spoiler and equally massive front air intakes.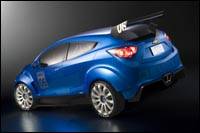 (Photo: General Motors)
Modern lightweight materials have been used to keep the curb weight as low and the handling as good as possible, helped by a perfectly proportioned shape -- 4325mm long, 1905mm wide and 1570mm high. Body panels are finished in "Stealth Blue" and made of a glass fiber and carbon fiber laminate. Meanwhile, the various ground effects are made of pure carbon fiber fabric. Finally, polished aluminum is used for door handles and other fittings.
Oh and in case you're wondering, the WTCC Ultra Concept is powered by a 190 hp, 2.0-liter diesel engine. As for the interior, the only word for it is "out-of-this-world".
Make sure to check out the photo gallery for additional pictures.