Unpopular and unconventional Baja crossover a worry-free pick
2003-2006 Subaru Baja Pre-Owned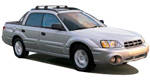 GM did it first, with the El Camino. They locked a sedan and a pickup truck into a candle-lit room, added a bottle of Shiraz, some Kenny G, and then let nature take its course. The result was the El Camino- the first half-car, half-truck of its kind.
Subaru tried a similar thing too- with their BRAT. This was a uni-body pickup truck marketed in North America from the late 70's to the late 80's. Volkswagen and
Chrysler Group
had similar vehicles.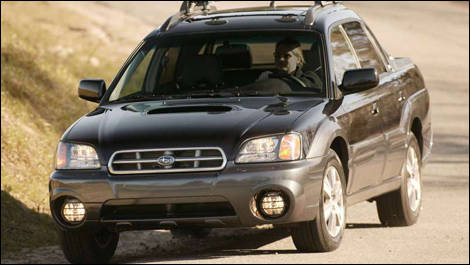 2005 Subaru Baja
Seems the idea of a half-car, half-truck had some sort of merit. The 'Cruck', as some call it, is less thirsty and more comfortable than a truck, but tougher and more useful than a car for some folks.
The BRAT's been relegated to the history books now- but the
Baja
enjoyed a four-year lifespan in its honor from 2003 to 2006. This was then called a 'crossover' vehicle, and featured four doors, roof-rails, and a truck-bed in back. A trap door could be opened between the bed and passenger compartment, allowing for extended length cargo to be accommodated.
BAJA's cabin was available with leather or cloth, a sunroof, CD player, and aluminum trim- so owners after a luxurious and flexible hauler will likely be impressed. Look for features like a 6-way power driver's seat, roof-mounted activity lights, a bed-cover and plenty of aftermarket accessories. Baja also came with 16-inch alloy wheels, four-wheel ABS disc brakes and a limited slip differential.
Being based heavily on the
Outback
, the North-American designed and built Baja benefits from Subaru's typically good reliability and manners. Power came from a 2.5 litre boxer engine, developing 165 horsepower driving all four wheels through a four-speed automatic or five-speed manual gearbox. After the first year of sales, a turbocharged engine was available, with 210 horsepower. In either case, the engine cranked an invisible Subaru All Wheel Drive system, which automatically worked for optimized traction on any surface- no driver input required.
Owners recommend avoiding the automatic transmission, unless you happen to enjoy sluggish acceleration. Conversely, the turbocharged model with manual transmission is said to be entertaining and exciting to drive.