2004 Chevrolet Epica Road Test
Luxury without a Luxurious Price Tag
Now I'm not big in the kitchen. Let's face it, few men are, or are at least are willing to admit to it unless there is an ulterior motive. That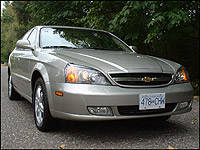 The Canadian only Epica is now available so I took it for a spin. (Photo: Rob Rothwell, Canadian Auto Press)
being said, I have rattled the odd pot and pan and followed the occasional recipe, albeit with little accuracy and much improvisation. So what do kitchens, pots, pans and recipes have to do with a road test of the newly introduced Chevy Epica? Nothing really, except that when I wrote an article previewing the Epica a few months back, I was essentially reading a recipe and predicting how the ingredients would taste when cooked. Well the Epica just came out of the oven and I've tasted, or should I say, test driven the first sample, which I hope to describe to you in less culinary terms.
So the new Chevy will only be sold in Canada, eh? That's right Johnny Canuck, only in Canada. It arises from a recently formed automotive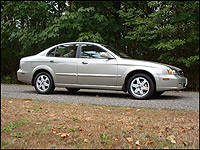 Don't let its Daewoo and Suzuki roots put you off, the Epica has achieved a very high level of quality and workmanship. (Photo: Rob Rothwell, Canadian Auto Press)
partnership between General Motors, Daewoo and Suzuki, as the major partners. This automotive "Brady Bunch" operates under the title of General Motors Daewoo Automotive Technology, or GMDAT for short. The Epica is twin to the U.S. only Suzuki Verona and is manufactured in a GM affiliate facility in Bupyong, South Korea. Don't let the foreign roots of Epica give you cause for concern though. The quality of Korean manufactured automobiles has grown by leaps and bounds during the preceding decade. Combined with GM and Suzuki's long experience, the Epica seems to have achieved a very high level of quality and workmanship.