Ask and ye shall receive
2013 Buick Verano Turbo First Impressions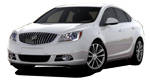 Louisveille, KY
- When companies listen to their clients, there's cause for some form of celebration. Sure, clients think they know what they want, but it's rare that a company actually takes complaints/suggestions/advice from their paying customers to heart. However, in the case of the Buick Verano, they took an idea and ran with it. And I have to say, I'm so very glad they did.
Buick said their customers wanted more power in the Verano. They wanted a faster version. They didn't want anything else to change (interior, exterior, styling), they just wanted more grunt behind the wheel. So, that's what they did.
Enter the 2013 Buick Verano Turbo.
In the same skin
Generally, more powerful versions of vehicles are visibly different from their "regular" siblings. However, such is not the case with the 2013 Buick Verano, save for a small decklid spoiler and the required "T" badge on the rear and the dual exhaust pipes. Understated for most, but apparently it's precisely what Buick customers requested of the sportier Verano.
Overall, the 2013 Buick Verano Turbo has a great look. Buick's new front fascia looks rather manly to me, and very businesslike. Unlike most headlights, Buick has kept the Verano's wide-eyed instead of sloping back along the fender-line. It's around the rear where things get interesting. The moment I saw the 2013 Buick Verano Turbo's rear I thought: Martin Scorses.
Take a look at the rear, straight on, and check out those large, "bushy" chrome eyebrows slanting down over each taillight. You know I'm right. On the other hand, it makes the Buick look like it's in a really bad mood...
Inside, the 2013 Buick Verano Turbo is identical to the non-turbo version. Well conceived and modern, Buick is once again appealing to a younger audience. However, they didn't skimp on comfort to attract the masses. The seats in the Verano Turbo are fabulous for both driver and passenger. While I did find the passenger seat a bit low, the visibility on the driver's side is quite good.
OnStar (which is standard) now offers
OnStar apps for your smartphone
, and
Buick's IntelliLink system
is an available option as is a nine-speaker Bose premium audio system, heated leather steering wheel, dual-zone climate control and other amenities that are sure to make your time in the Buick Verano as comfortable and Buick-like as possible.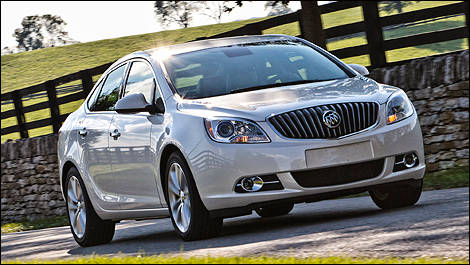 Buick's new front fascia looks rather manly to me, and very businesslike. (Photo: Buick)
On the winding Louisville roads
Offered in a 6-speed manual or Hydra-Matic 6-speed automatic, the 2013 Buick Verano Turbo is outfitted with a 2.0L turbo that pumps the power up from the base 2.4L's 180 horses to 250, and jumps the torque from 171 lb-ft to 260. And it does so quite smoothly and effortlessly. Of course, the 2.4L will still be available, but why wouldn't you want more power? And clearly Verano clients want it.
Piloting the 2013 Buick Verano Turbo, I never felt the need for more power or grunt behind the wheel with the 6-speed automatic. I also felt the gears were well sorted and able to control themselves well, despite the autobox. Turbo lag is nearly a moot point, and all but disappears after first gear. I would have liked a pair of paddle shifters on the steering wheel just to have that option, but I quickly forgot about that as soon as the twisties appeared.
With updated suspension and four antilock disc brakes and brake assist, the 2013 Buick Verano Turbo handles as well on the move as it does leaving the line.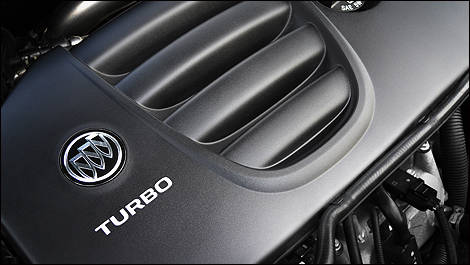 The Buick Verano Turbo is outfitted with a 2.0L turbo that pumps 250HP and 260 lb-ft. (Photo: Buick)
A place in the Buick stable?
Here's the deal: The 2013 Buick Verano Turbo is a great car with a decent starting price of $30,900. It's well-behaved (when you ask it to be) with that extra oomph when you want and need it behind the wheel. Its classy and sophisticated design will appeal to many, and its comfort on the road is just what you'd expect from a Buick. However, where does it fit?
The question arose on the drive: Won't the Verano Turbo take wind away from the Regal's sporty, performance sails? Just as my colleague asked a few weeks ago,
what is GM doing?
Apparently, they have no fear as the Regal is the "sportier" brother, but I'm not entirely sure their know-what-they-want customers will see it as such.