Which shampoo do you use?
2014 Volkswagen Tiguan R-Line Review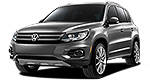 The shampoo isle at your local department store is proof that shoppers just absolutely freaking love selection. Every viscosity, colour, formulation, and scent is represented. You can get shampoo for dandruff, more lustrous hair, and even shampoo that makes you smell like a sports star. It's all evidence that selection is good stuff. It gives shoppers the ability to choose exactly what they like, even if the ultimate "want" satisfied by all of the competing products is largely the same.
What is a 2014 Volkswagen Tiguan R-Line?
Volkswagen doesn't deal in shampoo, but they do deal in compact crossovers, which exist in one of the hottest market segments in Canada. Like that shampoo isle, the compact crossover scene offers a similarly daunting and promise-filled selection of competitors shouting out for your hard-earned cash. Volkswagen's product here is called the Tiguan, a compound name made of the German words for Tiger and Iguana. All models are five-door, 4-cylinder, with 2- or 4-wheel drive.
2014 Volkswagen Tiguan Prices and Specs
The Tiguan starts around $25,000 with front-drive and a 6-speed stick, and an automatic spikes the price to $26,390. With four-wheel drive, Tiguan starts at $28,450. Various trim grades are available for fine-tuning the Tiguan to any needs or tastes, and the tested top-line Highline with R-Line package was priced in the low $40,000s.
Driving the 2014 Volkswagen Tiguan
For a young couple or small family, Tiguan should be like that proverbial perfect bowl of sheetmetal porridge. It's not too big, not too small, agile not clumsy, and zippy, not lethargic in tight quarters. And because it's not a behemoth, Tiguan drives less like a piece of construction equipment and more like a car.
The athletic VW Group 2.0T engine is the sole offering spooling up 200 horsepower, even more torque, and an award-winning combination of refinement, mileage, output, and character. It's no neck-snapper, but it's considerably gutsier in the mid-range than comparable free-breathing 4-cylinders, while maintaining admirable composure and a pleasing sound.
The available R-Line package available fits a set of sporty wide wheels, a subtle body kit, special badging, fender flares, and some cosmetic tweaks that make the Tiguan something your mom would call "sharp" looking. There's also a sports-tuned suspension calibration that takes a little out of ride comfort and adds back, several times over, to agility and responsiveness. The Volkswagen Tiguan is one of only a few competitors to offer such a sports package.
Equipped thusly, the Tiguan R-Line thinks it's a
GTI
. The solid, dense, agile, and quick-to-respond feel that characterizes VW's elemental sports-hatch has inspired things here. Minimal steering inputs flit it around twisty roads, and it stays relatively flat in the process. The wide tires dial up the overall grip, and steering feels connected, firmly and precisely, to the wheels. In all, with the R-Line kit, the Tiguan is laid back when driven gently, and mischievous when rushed around.
So, a bit of a sports car, the Tiguan R-Line is. Thankfully it works pretty well as a crossover, too.
For those travelling on rougher terrain, a decent sense of ground clearance and traction should prove appreciable. I took the tester down a badly rutted, slush and mud-covered cottage road on two separate occasions, travelling through some wince-inducing ruts and puddles. While there, the AWD system found traction with ease and virtually always felt like it knew what it was doing. There's minimal wasted wheelspin when the going gets sloppy, and full off-the-line traction is always at the ready.
Other notables? The Dynaudio stereo system is a top-class eardrum smasher, and the bi-xenon headlamps are among the best I've ever used on a late-night drive.
Inside and Out of the 2014 Volkswagen Tiguan
There's plenty of storage for the driver's things nearby, and I noted no issues with space or room in the front seats. Rear seats fold down to expand on the cargo space when required, too -- a good thing as the shallow cargo hold in back isn't the largest I've seen in a comparable crossover. Space is adequate, though not generous. You'll want to check out something like a Honda CR-V, Dodge Journey or
Subaru Outback
if a great, big cargo hold is of great, big importance.
Back up front, some of the controls and switches and display readouts are looking their age, though a simple, understated, and elegant formality results from the expert looking stitching on the leather seats, premium materials throughout, and a soft perforated leather steering wheel to go with the metallic trim bits and solid-feeling controls and switches.
The massive panoramic sunroof was a welcomed touch as springtime began emerging. At the flick of a dial, it's front glass panel slides away, virtually turning the Tiguan into a convertible.
Comparing the 2014 Volkswagen Tiguan
As a sportier-than-average compact crossover, the Tiguan R-Line shoppers should consider test-drives of direct competitors like the Subaru Forester XT, Kia Sportage Turbo and
Hyundai Santa Fe Sport 2.0T
. Without the sport-enhancing R-Line equipment, the Tiguan should prove a worthy and more powerful alternative to machinery like the Honda CR-V and Toyota RAV4.