2001 BMW Z8 - Road Trip to Whistler: The Slopes Aren't the Only Place You Can Slalom
The low volume Z8 isn't exactly going to help BMW surpass its 1999 record breaking 9,011 cars sold in Canada, at least not directly. Indirectly, however, the sensational new roadster has done as much to boost BMW's stellar image yet further up the desirability ladder, as the exotic mid-engine M1 did in 1978.
But just how exotic is the Z8? Well, at a 4.7 second rolling street start (8 - 100 km/h or 5 - 60 mph), it ties the ultra-exotic Lamborghini Diablo VT 6.0! That's rarified company indeed. At 4.5 seconds to reach 100 km/h from standstill, it might not quite measure up to Porsche's wickedly-quick 911 Turbo (4.2 seconds), but the real world thrill of getting there with the top down makes it seem a whole lot faster. Other top tier stats are the ¼ mile in a phenomenal 13 seconds at 171.4 km/h (106.5 mph), lateral acceleration of 0.92 g's and a 100 k/h to 0 stopping distance of 37.2 m (122 ft) in a gut-wrenching 2.5 seconds!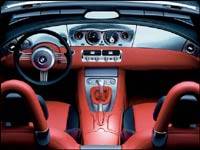 Although these impressive statistics place the Z8 in lofty company, with such supercars as the Ferrari 550 Maranello, Lotus Esprit V8 Turbo and Corvette Z06, the numbers by themselves hardly tell the entire story. There is a mystique embodies within a true exotic automobile that simple mathematics cannot convey. After all, the Ford SVT Mustang Cobra R, while posting similar performance figures, hardly qualifies as an exotic piece of machinery. This glorified status belongs to the few automobiles endowed with a fine pedigree, often involving a racing heritage and celebrity status. They quantify style, substance and exclusivity, combined with an equally exclusive price. The Z8 embodies these characteristics and then some.