Lighter and More Powerful
Chances are you don't see too many Ferrari 360 Modenas trundling around your neighborhood. If you live in a major metropolitan area, you may occasionally catch a glimpse of some lucky sod zipping past, the snarl of a 400-hp 3.9-L V8 letting loose.
If the 360 Modena is rare, then the 360 Challenge Stradale is endangered. The special motorsport prepared edition builds on the production car with the addition of slippery aerodynamic aids and the reduction of weight. The result is a street legal racecar.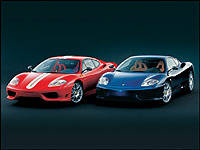 The special edition 360 Challenge is lighter and has 50% greater downforce than the standard Modena. (Photo: Ferrari)
The aero aids include front bumper mods that extend the lower fascia below the air intakes to add load to the front without interrupting airflow to the rear. Balancing things out is an increase in rear height plus new longitudinal fins. Overall the improvements increase the Stradale's downforce by 50 percent, assisted by an overall reduction in height via suspension tweaks. The modifications make the ride more rigid than the regular 360, improving performance on smooth surfaces, like racetracks, especially.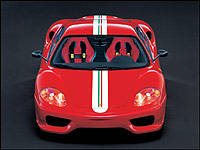 To reduce the weight by 110 kg, key body parts of the 360 Challenge were replaced with light weight materials. The new carbon-ceramic brakes improve stopping power and weigh 16% less than the stock ones. (Photo: Ferrari)
To reduce weight, by a significant 110 kg (243 lbs), Ferrari replaced key body, chassis and suspension components with carbon fiber, aluminum and titanium. Specifically the carbon-ceramic brakes, measuring 380 mm (15.0 in) in diameter and 34 mm (1.3 in) in thickness at the front and 350 mm (13.8 in) in diameter with the same thickness at the rear, that incidentally incorporate 6-piston calipers up front with 4-piston calipers at back, improve stopping distances by 15 percent while weighing 16 percent less than the conventional brakes on the stock Modena.