A New Variation on a Familiar Theme
Two recent trends have become apparent for the Hummer brand since GM took over its marketing rights: they're producing more concept cars than ever before and the models that these concepts turn into are becoming ever smaller and more affordable.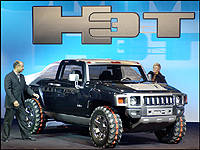 The Hummer H3T concept pickup was just launched in Los Angeles prior to the L.A. auto show. (Photo: General Motors)
Recent concepts that have gone into production start with the Chevy Tahoe-based H2, of course, and the derivative H2 SUT (sport utility truck), an SUV up front and pickup out back, set to arrive soon. Following the down market trend a midsize H3 is expected, possibly to look similar, in the front end at least, to this H3T concept pickup just recently launched in L.A. - incidentally ten days prior to the Los Angeles Auto Show, in the South Hall of the Los Angeles Convention Center where the show will open to the press on Monday, December 29th.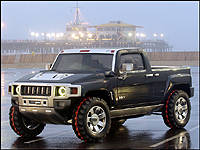 With a 2-seat regular cab configuration the H3T is a pure truck rather than an SUV/truck crossover. (Photo: General Motors)
The H3T follows the aforementioned H2 SUT conceptually, but being that it features only a 2-seat regular cab configuration it's a pure truck rather than an SUV/truck crossover. It's interesting to see Hummer move into this new direction, in what seems like a quest to optimize one of the world's most recognized brands thanks to CNN and the resulting coverage of the Gulf and Iraq wars.
When produced, no one expects that the H3T will sell as well as the more conventional SUV version that will follow, but why not pull in pickup truck buyers that want something distinctive if a business case can be made. After all, a majority of the tooling can be shared with the wagon so the cost wouldn't be that high to satisfy a niche market. That must be the theory behind the H2 SUT as well.