A Honda Civic in Drag
Before my mom left on her trip to Europe, I took her for a drive in the
2004 Acura 1.7 EL
. We briefly cruised the city, chatted and then I dropped her home. As she got out of the car I asked what she felt about the Acura's least expensive model, at which she responded, "It's a cute little boring car."
Canada is the only market in the world that Acura offers the 2004 Acura 1.7 EL Touring. (Photo: Alexandra Straub, Canadian Auto Press)
Throughout my test week in the Acura, I couldn't think of a better description than hers. As boring as the rebadged
Honda Civic
is, what is at least a little bit intriguing is that all this "excitement" is exclusive to Canada; the only place in the world where it is offered.
But the plain-Jane EL was exactly what the doctor ordered after having my one and only wisdom tooth pulled out. For the first time I was glad that I wasn't attracting attention looking and feeling the way I did. It was not pretty. Just ask my editor!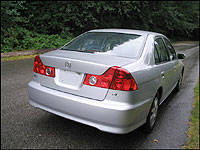 After having my wisdom teeth out, it was nice having a comfortable, smooth-riding car, I even enjoyed the 4-speed automatic transmission . (Photo: Alexandra Straub, Canadian Auto Press)
Nevertheless, the sedation wore off and the dizziness from the T3's passed so I was up and running around town, driving, working, listening to my favourite CDs on the 6-speaker AM/FM/CD audio system and doing the usual. It was great to have a reliable, comfortable, smooth-riding car to get me where I needed to go. Heck, I'll even admit it was even nice to have the optional 4-speed automatic transmission harnessing the anemic 127 horsepower 1.7-liter 4-cylinder with a merely adequate 114 lb-ft of torque - the same engine found in the
Honda Civic Si sedan
and coupe.