Dominating With a Price and Power Advantage
To say that Nissan's 350Z has done well doesn't do it justice. The fact is that Nissan's sexy coupe dominates its class with over 38% of the 2003 model year performance sports car market. To be clear that means it outsold the Audi TT, BMW Z3/Z4, Honda S2000, Mercedes-Benz SLK and Porsche Boxster combined for the 2003 model year. It also sold better than America's sports car, the Corvette, in every month since it went on sale.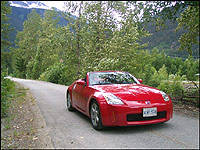 With a combination of impressive power, sweet handling, and a wallet-pleasing sticker price, it's no wonder the 350Z is so popular. (Photo: Trevor Hofmann, Canadian Auto Press)
Why is it so popular? One test drive answers this question decisively. The Z delivers substantially more power than every car in its class, while offering particularly sweet handling that is at least on par with all competitors, and better than some. And to top it all off, it can be had for a great deal less money than any rival.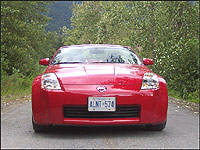 Faster off the line than the Audi TT coupe, BMW Z4, Honda S2000, M-B SLK and Porsche Boxster, the Nissan 350Z is also considerably cheaper. (Photo: Trevor Hofmann, Canadian Auto Press)
Let's do a comparison. A similarly equipped Audi TT coupe starts at $48,650, almost $4,000 more than the $44,900 2003 350Z coupe. Its 180-hp turbocharged 1.8-L 4-cylinder driving the front wheels is hardly the equivalent of Nissan's real-wheel drive and 287-hp V6, its 7.9 seconds 0 to 100 km/h time a full 2.4 seconds slower than the independently tested 5.5 second to 100 km/h 350Z. Sure the Audi offers a 225-hp all-wheel drive alternative, at a whopping $54,900 base price and will soon sport a 250-hp V6 version in 2004, but it still plays catch-up to the Z in the acceleration arena.
As for the other cars on the list, the BMW starts life as a 184-hp 6-cylinder priced nearly $7,000 higher than the 350Z at $51,500, with the upgraded 3.0-L version sporting 225-hp starting at $59,500. While its engine is wonderfully smooth, it's rather anemic compared to the Nissan V6. Honda's diminutive 2.0-L 4-cylinder makes a substantial 240-hp in S2000 trim, but that power is about as flexible as a pot iron tie-rod. Nothing of any consequence happens until 6,000 rpm, making it truly hopeless off the line.