Rich Guys Have All the Fun
When Porsche introduced its Cayenne sport utility to Western Canadian media, conditions didn't allow the opportunity to take it off-road. The weather wasn't a problem when a well equipped
Cayenne S
became available for a weeklong test, though, so my dutiful cameraman Shawn Pisio offered to ride shotgun.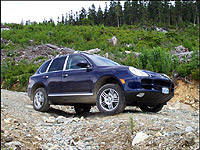 During a weeklong test with the Porsche Cayenne S, the opportunity arose to take it off-road. (Photo: Shawn Pisio, Canadian Auto Press)
Shawn would later find out that shotgun with a camera in the wilderness meant jumping in and, unfortunately for the swarms of black flies, mosquitoes and horseflies, out often to take photos of the truck in action. That he did admirably, and with hardly a complaint bore the scars of proof proudly.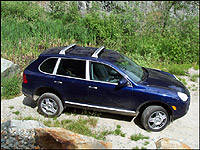 The ample ground clearance, short overhangs and height adjustable air suspension kept the Cayenne safe while off-roading. (Photo: Trevor Hofmann, Canadian Auto Press)
Fortunately, the Cayenne's ample ground clearance and short overhangs translated into nary a scratch on its skin, which is a good thing being priced at nearly a hundred large with its optional DVD navigation and height adjustable air suspension.
The former is ruddy useless off the beaten track, unless pointing the SUV in the general direction of a main thoroughfare is needed. The latter, mind you, is especially handy when the road gets vehemently nasty.