Inspiring as it Spoils
I have always had a penchant for large, powerful sedans that push the thresholds of luxury and performance to new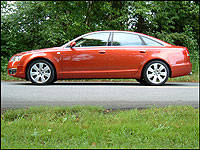 For 2005, Audi has performed a revision of the A6 that goes well beyond its boldly restyled nose and sharpened tail. (Photo: Rob Rothwell, American Auto Press)
benchmarks. The first generation (1991-1996) Infiniti Q45 did just that more than a decade ago. Through the years, I have been fortunate enough to own two such Q45s and I miss them dearly. Twisting the key in Audi's redesigned 2005 A6 brought those wonderful memories flooding back. There it was, the heavily muted, yet unmistakably deep, gentle exhaust note that only a powerful V8 can produce - a five valve-per-cylinder, 4.2-liter DOHC V8 to be exact.
For 2005, Audi has performed a revision of the A6 that goes well beyond its boldly restyled nose and sharpened tail. The most obvious change is the massive grille that the automaker is now adopting as its familial theme. It gives the A6 a look of aggression that was missing on the excessively rounded 1998 through 2004 model. Although the side profile of the new A6 has changed little from last year, I continue to find it one of the sharpest sedan profiles on today's market. I admire the symmetry of its sleek lines and the uninterrupted greenhouse effect produced by its slim roof pillars. Audi has also tightened-up the taillight treatment and overall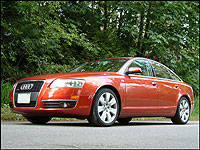 The most obvious change is the massive grille that Audi is now adopting as its familial theme. (Photo: Rob Rothwell, American Auto Press)
rear end, endowing the car with an intensity that is much more in-line with its athleticism, especially when the rumble from its twin pipes is V8-generated.
Although the outside dimensions of the A6 are unchanged for 2005, its improved visual presence gives it a much more substantive and imposing appearance, so much so that I was surprised to learn that only its wheelbase had grown. An additional 3.2 inches of pavement now separate the front wheels from the rear, pushing them even closer to the corners. Exterior body panels are accurately assembled and aligned with slim gap margins. Doors close with the vault-like "whump" we have come to expect from premium automobiles.