(Photo: Justin Pritchard, Auto123.com)
Just about every carmaker has a vehicle for under $25,000 that seats 5 people, and gets over 35 MPG. This isn't very exciting stuff, because it's becoming somewhat harder to find a car in this price range that stands out and grabs attention, with its looks and performance, while offering every-day value and usability at the same time.
I thought
Mazda
may have been on to something when I originally noticed the 3- first of all, its available as a sedan or a 5 door hatchback (think mini-mini van). Only a handful of carmakers offer such variation on the same model of vehicle, including Ford, with the Focus, which shares a platform with the 3. Volvo also uses this platform, so one might expect it to be particularly refined and well built, as Volvos tend to be. Following alongside its siblings, the 3 impresses with its trophy-rack full of awards, including car of the year from more than a few Canadian publications. Not a bad start for a sub-$25,000 car if you ask me.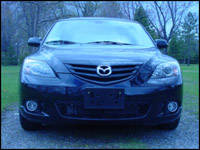 (Photo: Justin Pritchard, Auto123.com)
There is a European styling influence apparent when approaching the car: The bodywork is pronounced, but doesn't chop the car into pieces and make it hard to look at. There is a sense of personality when looking at the 3 from the front- the headlamps are aggressive looking and their shape repeats in the fog-lamp surrounds. The hood sweeps boldly to a distinct point in the front, atop a large air dam in the bumper. The result is a face that is identifiable straight away, in a market full of cars often mistaken for one another. If you want to stand out in your car, this will do the trick. The 3 is a serious looking car, as 5 door hatchbacks go, right down to the name. Using a number to name a car is characteristic of much more mature and esteemed vehicles, but with these looks, the little Mazda pulls it off.
Inside, the styling is just as serious. Dark plastics make up much of the scenery, with chrome accents on the steering wheel and shifter pulling your attention to the main elements of the driving experience. Red illumination of the instruments and controls is easy on your eyes at night. An aluminum colored slash cuts through the dashboard to break the dark colors on the passenger side. Two-tone seats with red and black add credibility to the sporty looks. Every door has a cup holder in it, and there
(Photo: Justin Pritchard, Auto123.com)
is plenty of storage space. In fact, I can nearly fit my entire arm into the glovebox, which is some 28 inches deep! You could easily lock up larger items like your laptop or Playstation inside to keep them out of sight. Space and utility abounds in back too, with seats folding flat, and a clever organizer hiding underneath the floor. Rear-seat accommodations are comfortable and roomy, and unlike some sedans or coupes, there is headroom in back both while entering the car and once seated. Driving position couldn't be better for a vehicle of this type: you don't feel as though you're driving something "tall", and the sporty feel of the seats is easily enhanced by their many adjustments.
Less common, unique features help wow customers in this price segment, so Mazda has added more than a few. You can get any car with power windows and a CD player, but some features on my 3 Sport tester include such rarities as automatic wipers and headlights, heated mirrors, telescopic steering with steering wheel mounted audio and cruise controls, height adjustable seats with lumbar, color-adjustable instrument lighting and even clear tail lights which are so highly sought after by many young folks.