The real Cadillac of Minivans
Minivans are an important part of hundreds of thousands of families' lives. They are the vehicles of choice for jobs ranging from taking the kids to softball practice to hauling all your stuff when you move. In the early 80's, Chrysler hit the nail square on the head when they created this segment. Since then, almost every major car manufacturer has jumped on the minivan bandwagon. And for some who have not, will do so very shortly. The principal virtues that people look for in this type of vehicle is versatility, power and, most importantly, safety. The
Sienna
has been, since its introduction in 1998, one of the safest and most reliable minivans on the North American market.
In 2004, Toyota redesigned the minivan and made it bigger and more potent. At the same time, they added the possibility of ordering an XLE model with AWD. With a price tag of over $45,000, it was not attainable for everyone. For 2005, Toyota decided to offer AWD as an option for all trim levels making it one of only two manufacturers, along with GM, to propose this crowd-pleasing option.
The base Sienna CE FWD retails for an even $30,000 while a fully equipped XLE AWD has a sticker price of $52,640. The tested CE AWD model has an asking price of $35,900.
Exterior styling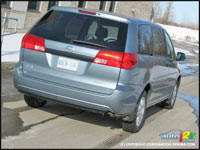 This generation of the Sienna has far more character than the very generic previous version. The front end is more pronounced and more aggressive in minivan terms. The clean unbroken line that travels from the front fenders to the wrap-around taillights, gives the van fluidity without any interruptions. The body panels are very well assembled and paint application is smooth and even. On a side not, the sliding doors really needed a hard shove to close properly; no one could do it on the first try.
Interior styling
The front and second row seats are comfortable and sufficiently supportive for both a short or long trek to the cottage. The adjustable armrests are a little annoying. They ratchet themselves into a position and then lock. To re-adjust them, they have to be moved all the way back up and then down again. The third row seats fold flat into the floor, as they
all should, however they require more labour to actually fold and flip them compared to a
Honda Odyssey
or Mazda MPV.
The Sienna's dash layout is well thought out and finished. All controls are perfectly located within easy reach and simple to use. The plastics are of good quality and the dash is padded for that extra level of safety and worth. The gauges are large, clear and effortless to consult. The dash-mounted shifter is well positioned. The cabin offers a plethora of cubbyholes to empty pockets into. The door panel armrests double as small hidden storage compartments. There is a useful dual-glove box, a large bin at the bottom of the center console and a folding front-center table. The audio system's sound is average at best.
Visibility in every direction is very good. A nice touch in the Sienna is the roll-down sliding door windows: They give the second row passengers a sense of freedom and fresh air that too few other minivans offer.