* Click HERE to see a video on the Hummer H3 *
Garage and off-road Rated.
This vehicle does not really even need an introduction. If I say the word "Hummer", everybody knows what I am talking about. What is big and brash and owns two lanes when it is cruising on the open road other than a Freightliner? A Hummer of course.
Hummer has come out with a new SUV on a slightly smaller scale. Many people know that Hummer started out as an Army vehicle which was made famous when Governor Schwarzenegger purchased one many years ago from AM General. General Motors bought the Hummer brand from AM General in 1999 and continued to build what was to be called the H1; the big and original Hummer. Response and interest in the big behemoth was so strong that GM decided to create a smaller more affordab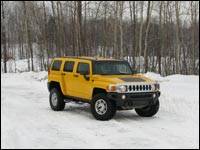 le version; the H2. Again, the truck sold so well that GM once more decided to make an even more scaled down version; the H3, which is the one I am driving. It is so small that it is known as the Baby Hummer.
Pricing starts at $39,995. With all options, an H3 can retail for nearly $60,000. My tester was a 1SB equipped with side-steps and a few other options. It retails for $45,375.
Styling
An unmistakeable Hummer, the H3 carries the distinctive signature grille, boxy style and oversized fender flares. The H3 is basically an H1 that has spent too much time in the dryer. One of the elements that I like is the black HUMME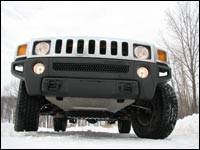 R badge in the center of the wheels. It is made to resemble components of the central tire inflation system found on the H1. Among its other styling elements, the extra-large wheels and tires leave no doubt in anyone's mind that this vehicle's reason is for trekking out to the road less travelled.
Although the truck is big, the windows are quite small. The tank-tough like high beltline and flat roof only allow for windows that are no more than a foot tall. This translates into limited outward visibility. The rear view is further hampered by the spare tire.
No matter where I went with the flame yellow H3, the truck would garner a surprising amount of looks. What was interesting though was that it seemed to catch the attention of men, women and kids alik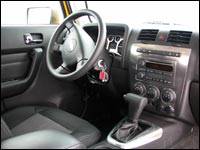 e.
The interior of the H3 is very sober. My tester has the monochrome black scheme with black cloth seats. The plastics are well assembled and the texture somewhat reminds me of materials that I have seen in some Mazdas. The front bucket seats are very comfortable and supportive. The rear split folding bench is also cozy. Overall interior fit and finish is good however it is a notch below that of the Impala's. All controls are simple to operate.