You CAN be cool in a Minivan!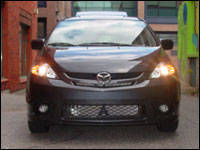 2006 Mazda5 GT (Photo: Justin Pritchard, Auto123)
Comedian Bill Engval once said "There is no way to be cool in a minivan." I agree somewhat, but then not everyone buys a vehicle to be cool. One Dodge Caravan named "Tugboat" taught me how to drive, and served as a reliable sidekick for all my teenage driving escapades, and for that it holds a place in my heart. I can't deny their usefulness and practicality. If you have a family, and your kids still live at home, a Minivan is likely the best way to efficiently get from one place to the next.
But I write more for post-secondary aged folks: an age group that isn't so likely to have a family of their own aside from study groups and team mates. Then what am I doing in a minivan? Well, in the same way that your mock-family of classmates isn't the same as a normal family, the
5
isn't the same as a normal minivan. It's only got 4 cylinders, the only minivan like it. Its even available with a manual gearbox, but then so is nearly every Mazda, because these people take fun behind the wheel seriously. It has a sunroof, steering wheel mounted audio controls, CD changer, power sealing sliding doors, one of the most adaptable cargo areas available, and even power outlets in front and back so you can plug in your toys. There is a cup holder everywhere you look, plenty of storage compartments, including a double-decker storage compartment in the center console. And what would a Mazda be without glove box that can nearly swallow your whole arm?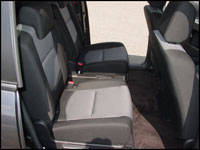 2006 Mazda5 GT (Photo: Justin Pritchard, Auto123)
But alas, I can nearly hear the lot of you thinking "Why do I need a minivan?" Perhaps you educate yourself out of town. This means that every year, you'll move all of your things, twice. You can fit all your belongings into the 5 because your dorm is probably smaller than it, so you can move all by yourself, no parental assistance needed. Really, who wants mom and dad around for all the "week before class" shenanigans anyhow? Maybe you'll play a sport, like hockey or basketball. Throw 5 teammates and all their gear into the 5 and go to the game. After winning, shower up and head out to the clubs to celebrate in style, without the shame of arriving in a far less cool "family" minivan like a Caravan or Venture Maybe you're a business student like me, and you start crunching some numbers. You'll realize that if you charge your mates a small fee to take them to the grocery store or mall on weekends (instead of taking the big, noisy transit bus) you have the opportunity to return a decent profit. Just ideas, people.
2006 Mazda5 GT (Photo: Justin Pritchard, Auto123)
In case you haven't noticed, the 5 is already looking more appealing than reading week, and I haven't even taken you for a spin.
My GT tester was looking dressed up and ready for fun, wearing big wheels, fog lamps, side sills and a rear spoiler. But you need to know that the styling isn't for everyone. I pulled up to a group of fashionable looking young people with skateboards and asked them what they thought. "I like it. I could definitely pick up in that." One said. Maybe so, maybe no. Go look at one yourself and be the judge.